At this point, if you haven't heard about Bitcoin and cryptocurrency, you're probably living under a rock.   As Bitcoin is becoming more mainstream, a multitude of people is talking about how this burgeoning technology can be advantageous in a vast array of industries.   The multi-billion-dollar gaming world is one of the industries that…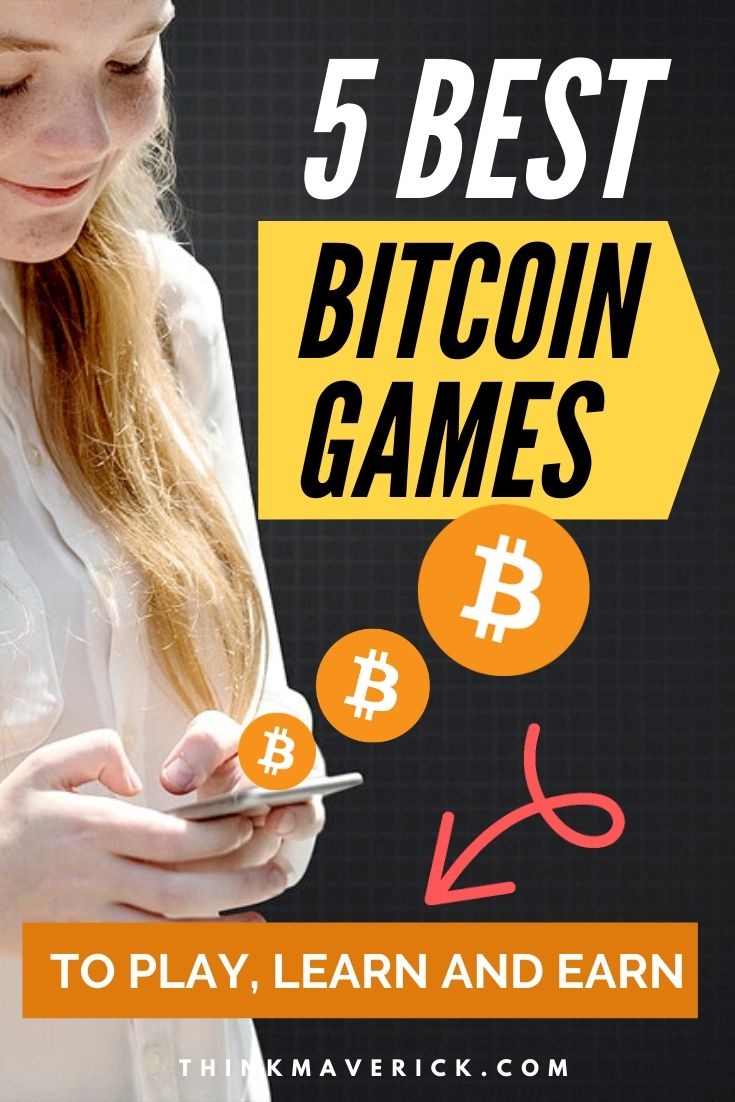 At this point, if you haven't heard about Bitcoin and cryptocurrency, you're probably living under a rock.
As Bitcoin is becoming more mainstream, a multitude of people is talking about how this burgeoning technology can be advantageous in a vast array of industries.
The multi-billion-dollar gaming world is one of the industries that has been evolving rapidly, helping the entire wave of technological innovation grow as well as speeds up Bitcoin adoption. 
In the not-too-distant past, there's only a handful of Bitcoin games. Today, there's plenty of game style apps that allow you to do various crypto-related things such as
Simulate trading cryptocurrencies
Build virtual mining farms
Create your own blockchain game
Learn the Bitcoin basics
Plus, some of them even reward you with Satoshi for just playing.
Whether you're looking to trade with stimulated money, beef up your crypto knowledge, earn some bitcoins or simply love playing Bitcoin games, there's an app for you.
Here are my 5 favorite bitcoin-related games that are actually fun to play and worth your time.
1. Enjin Platform – Build Your Own Blockchain Game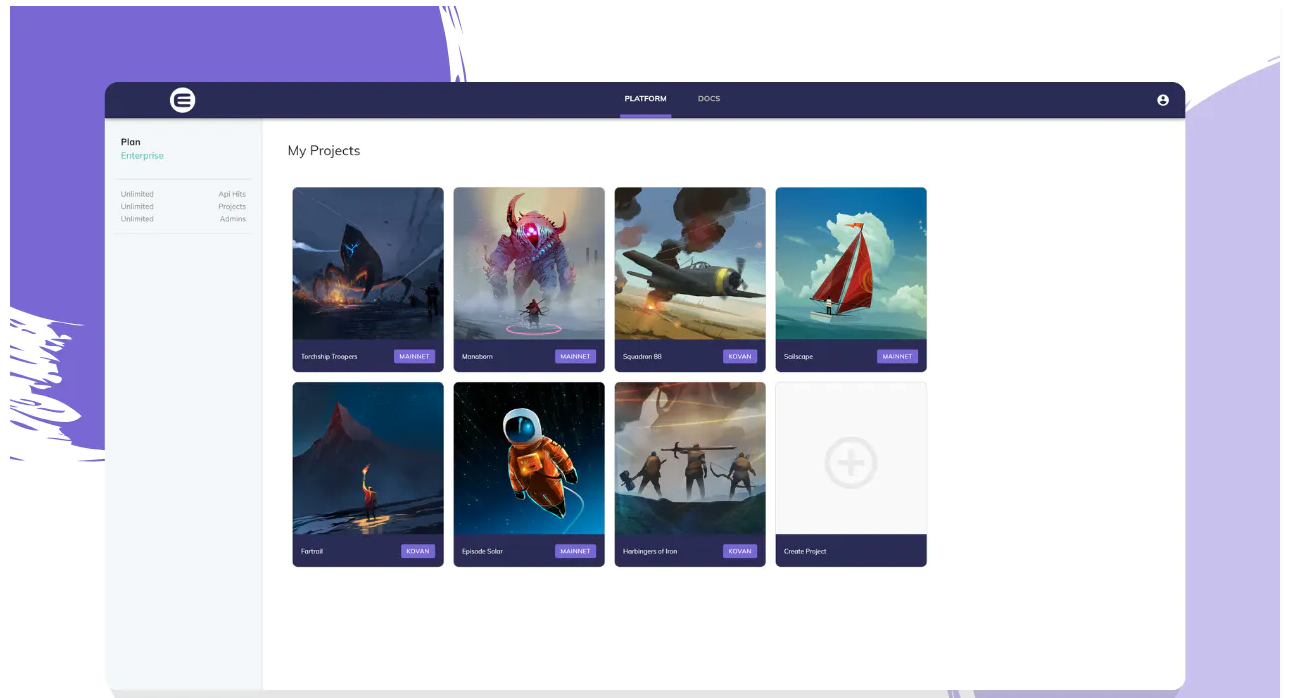 Have you ever wanted to create your own blockchain game and app but don't know how to code?
Enjin Platform can help.
Enjin Platform is the most user-friendly, all-in-one blockchain development platform that allows you to create, manage, integrate blockchain assets within your own graphic-heavy modern game – without having to write a single line of Blockchain code.
With their easy-to-use web panel, you can easily design, grow and even monetize your multiplayer game in the blockchain universe in a simple, straightforward way.
The Enjin is supported by Enjin Coin (ENJ), an Ethereum-based cryptocurrency used to directly back the value of blockchain assets and a few user-friendly apps:
Enjin Wallet: A trusted wallet that allows you to securely interact with your users' blockchain inventory, and allows your users to easily store, buy and sell their blockchain assets and collectibles.
Enjin Marketplace: An intuitive, secure platform where you and your users can explore, buy and sell assets with ease.
Enjin Explorer: A robust web app that allows you and users to search and verify all pertinent blockchain data.
Enjin Beam: Allows you to engage fans, convert customers, and create thriving gaming communities with digital rewards embedded within QR codes.
With the added blockchain bonus of incentivized cryptocurrency, players can now earn coins based on their performance and gaming skills. It allows players to grow their digital wallets with real-life value as they play. This will bring the gaming world to a different level. 
Enjin Platform currently offers 3 subscription plans based on how many projects you want to create.
Indie: Create 1 project, 1 member. It costs $29/mo
Pro: 3 projects, 5 members for $99/mo
Enterprise: For big businesses
Pros:
Build your own next-generation blockchain game and app with no specialized knowledge.
Clean, simple user-interface
Offers everything you need to create, manage, fund, grow, and monetize your virtual gaming world.
Monetize your game with Enjin Coin, a cryptocurrency with real-life value.
Cons:
2. Satoshi Games – Earn Real Bitcoin by Playing Games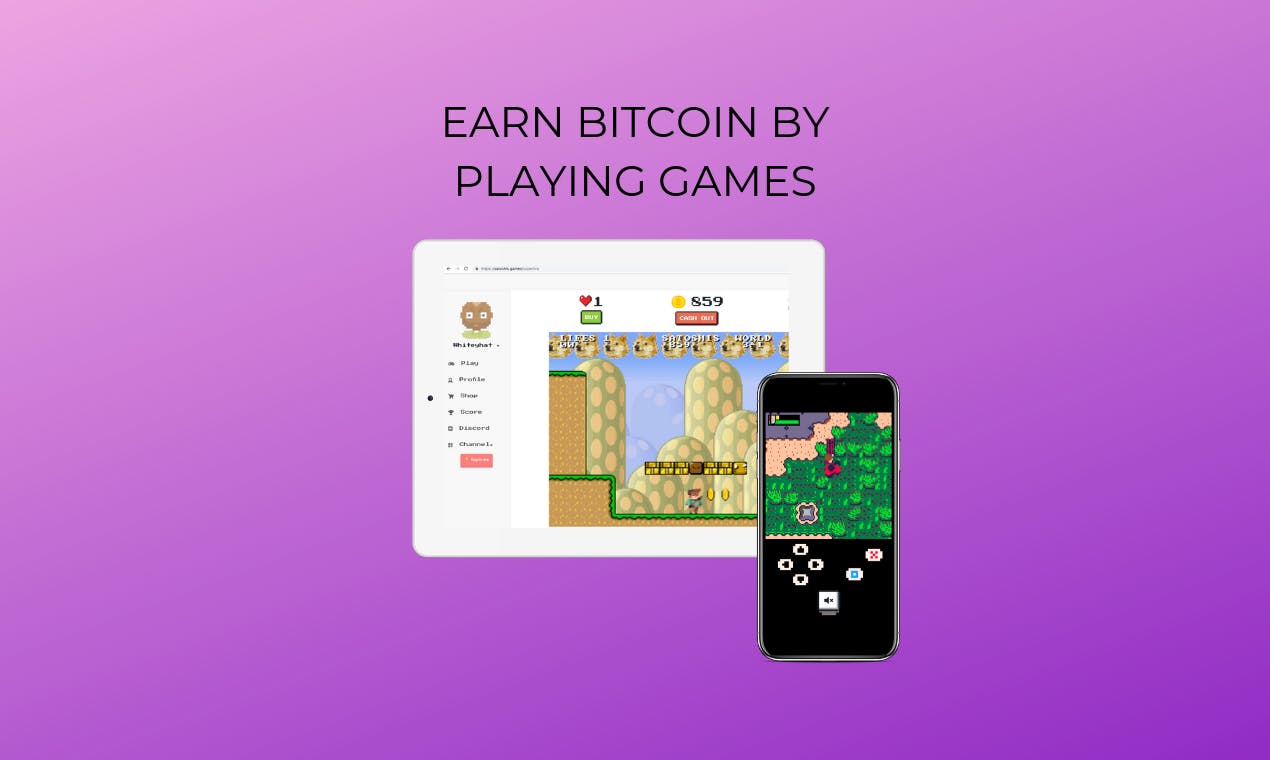 Satoshi Games is an 8-bit gaming platform built on Bitcoin Lightning Network ⚡️that allows you to earn real Bitcoin by playing games.
It's like a modern-day arcade token system.
Instead of rewarding gamers with useless points or "fake bitcoin", Satoshi Games rewards players 750 satoshis for each player you kill. You can move the coins you earn to your own Bitcoin wallet with a maximum withdrawal of 3,000 Satoshi per day.
Alternatively, you can use your Satoshi to buy an avatar from a specific Avatar Pack to create a unique character of your own design. Eventually, this avatar will become crypto-collectible, which you can buy, sell or trade on the network.
There's a collection of simple yet addictive games that you can play for free without creating an account such as The Legend of Satoshi, BCraft (a 2D top-down version of Minecraft) and The Lair.
However, if you want to earn more free Satoshi by playing games, it's smart to sign up for an account.
By creating a Satoshi Games account, you can:
Play tournament and compete against other players to win the pool money
Play challenges to earn free Satoshi
Play all of the premium lightning-powered games
Vote for new games
Buy avatar packs and customize your character
Currently, Satoshi Games offers 3 options for signing up:
Login with Joule (Free)
Login with Blockstack (Free)
Deposit 1,000 Satoshi (less than $0.09)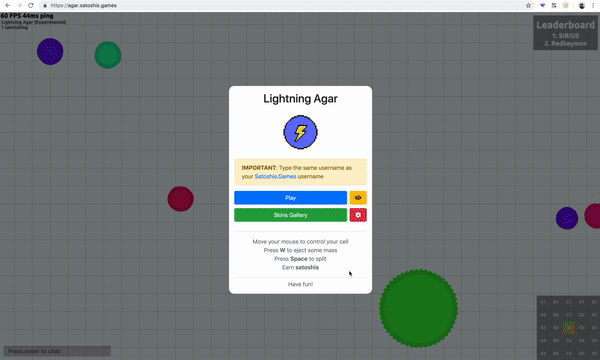 One popular game to play is the Lightning Agar. You pay 1,000 satoshis (if you don't have Joule) to create an account, type your username, choose a skin and start playing. Eat as many players as you can. You will be rewarded with 750 satoshis for each player you kill. It's really that simple.
Pros:
Super fun games
Easy onboarding
Frictionless payouts
Micropayments – earn real Bitcoin in the form of Satoshi ( 1 Satoshi =  0.00000001 Bitcoin)
Mobile friendly games
Cons:
Limited choice of games
Have to pay to access premium games
If you're interested in earning free Bitcoin in your spare time, these guides may help you:
3. SHAmory – Bitcoin Card Game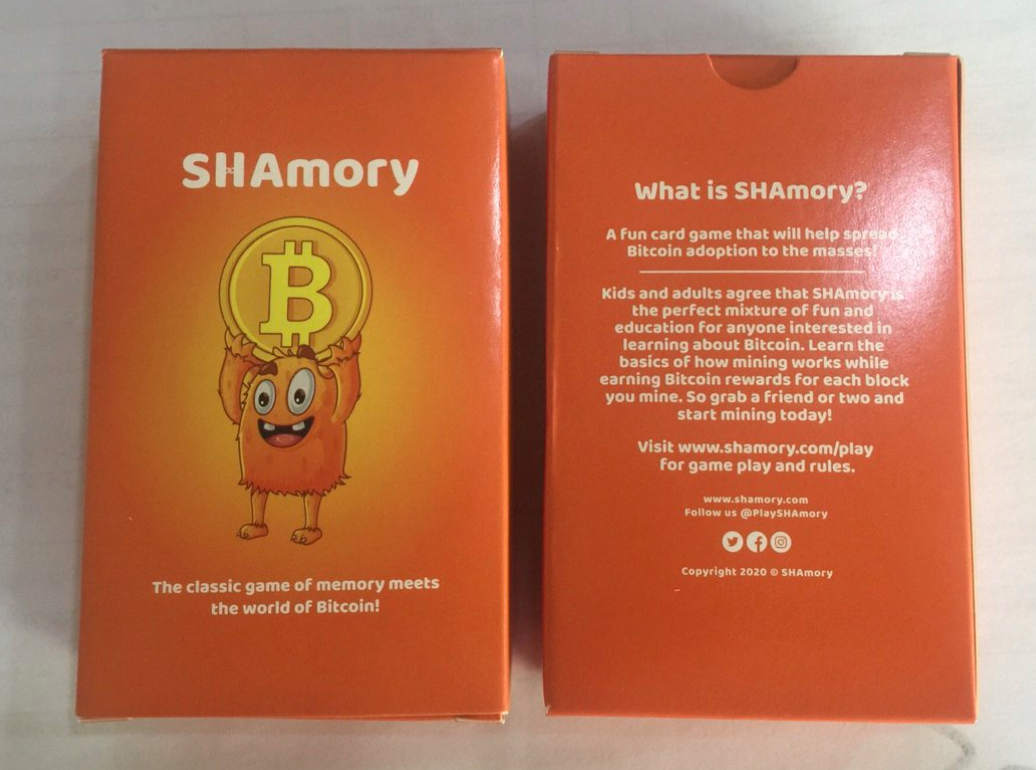 What better way to learn about Bitcoin than playing a card game with your friends and family?
SHAmory is an educational physical card game to help you learn the basics of Bitcoin as you play. That's not to say it's an adult game — it's good for ages 5 and up.
No prior Bitcoin knowledge is needed. All you need is a minimum of two people to get started.
As you play SHAmory, you'll be exposed to key features of Bitcoin, including:
mining
reward
genesis block
hash
attack
block height
nonce
target
This interactive card game makes learning fun and engaging. It'll help you accelerate your understanding of Bitcoin by helping you uncover how the Bitcoin mining process is essential to running Bitcoin. And you earn Bitcoin rewards for each block you mine as you play along.
Pros:
Clever, nicely-designed games

A perfect mixture of fun and education for anyone interested in learning about Bitcoin
Cons:
No Bitcoin earning opportunity.
Although you can't earn money with the SHAmory card game, the lesson you learn and the knowledge you gain from playing the game can shift your mindset, help you to truly embrace the technology and ultimately make real money like the Bitcoin HODLer.
4. Bitcoin Billionaire – Clicker Game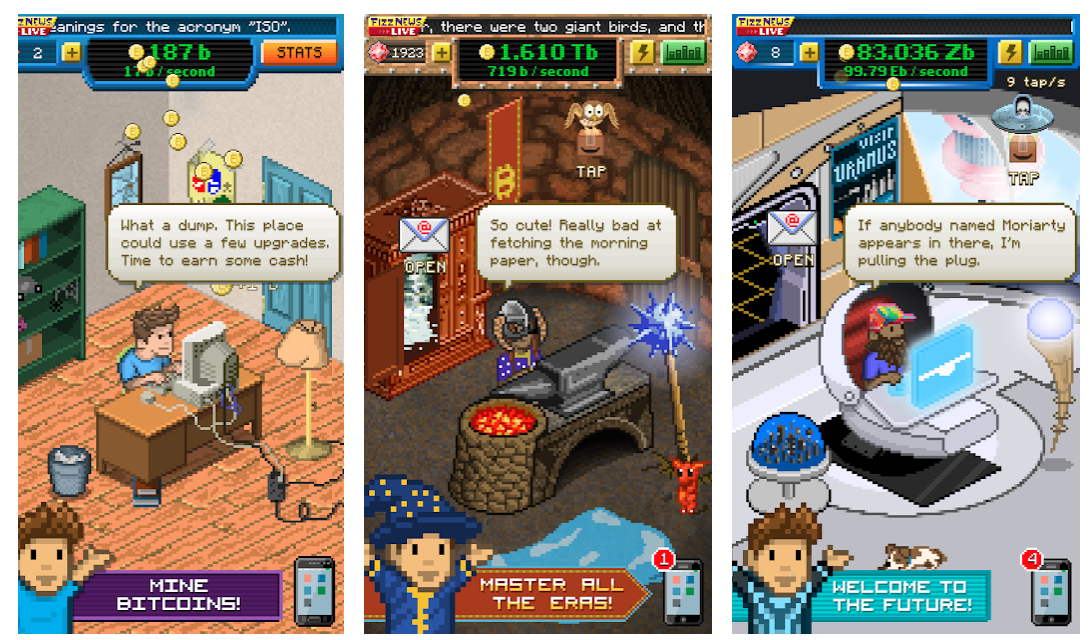 As its name suggests, Bitcoin Billionaire is a recreational game that allows you to become a virtual Bitcoin Billionaire by tapping. If you have a phone and you like tapping, you can easily earn bitcoins and build up a massive fortune in no time.
With Bitcoin Billionaire, you start with almost nothing. Mining your own virtual bitcoin business in a run-down office.
All you need to do is tapping on the screen to start mining virtual coins, selling them for profits, upgrade your standard of living. However, the key to becoming filthy rich is to invest your money so that your Bitcoin will continue working for you while you're away!
Additionally, you can time travel to a different era, unlocking new achievements, collecting more bitcoins, earn new upgrades and experience the thrill of creating a mining empire. Bitcoin Billionaire lets you have a taste of mining Bitcoin, slowly become a virtual mining tycoon and bitcoin billionaire -without risk of losing money.
Pros:
Fun and entertaining
No forced ads
Customize your character for better player experience
Simulate Bitcoin mining
Offer lots of interesting experience – holographic dating, virtual reality, adopt a kitty or robot, and much more!
No gambling
Free – never ask you for money
Available both in Apple Apps Store and Google Play
Cons:
Earn virtual Bitcoin which has no real-life value
Very addictive game
5. The Crypto Games: Get Bitcoin

The Crypto Games is a mining simulator that lets you mine bitcoin, earn bitcoin rewards, exchange Bitcoin to another crypto, and build a city of your dream.
The Crypto Games is not just another mindless clicker game, it comes with economic simulation that help developing your money-making skills.
The game starts you off by tapping Bitcoin on your mining farm. As you collect more Bitcoin and grow your crypto business, you can upgrade your clicks, build some income passive income streams and boost your mining business.
The fun doesn't stop here, continue to buy assets and buildings (banks, parks, hotels, amusement parks) and create your own city, you'll be well on your way to become a real money tycoon.
Pros:
Fun and entertaining
Simulate Bitcoin mining
No gambling
Free to download and play
Available both in Apple Apps Store and Google Play
Cons:
Earn virtual Bitcoin which has no real-life value
Very addictive game
Conclusion
There you go. 5 best cryptocurrency and blockchain games for talented developers, gamers and crypto-enthusiasts.
Let's recap:
Satoshi Games– for those who want to earn Bitcoin by playing games
SHAmory – Learn about Bitcoin mining by playing card game
Enjin – For forward-thinking developers who want to build their own digital world without writing a single line of blockchain code
Bitcoin Billionaire – Have fun playing bitcoin game while earning virtual Bitcoin (*it's not real bitcoin, you can't cash out)
The Crypto Games – Become a virtual mining tycoon and Bitcoin Billionaire (*again, it's not real bitcoin, you can't cash out)
There are many crypto-related apps and games out there that you can play, learn, and earn. However, most of them are copycat, lacking originality. Even worse, some use casino and gambling strategy to lure gamers to play, in which you'll end up not only losing money but also your precious time.
Thus, I only handpicked the best 5 apps worth checking out in this post.
Who says learning (Bitcoin and cryptocurrency) can't be fun?
What do you think?
Which Bitcoin game do you like to play?
Do you have any favorite fun crypto games that I didn't mention in this post? Tell me in the comment!
Here's some helpful articles that you can read next:
P.S: This Bitcoin resource is One of – if not the most – comprehensive resources for learning about Bitcoin with over 20 categories ranging from history to buying BTC, setting up a wallet, technical information, mining, security, and trading. Enjoy!