Looking to increase engagement, exposure and conversion on social media?   Then, create engaging content with beautiful images, animated GIFs, and captivating videos, is the way to go.   Don't just take my word for it. Let's look at these mind-boggling stats about video marketing: 52% of marketers say video is the type of content…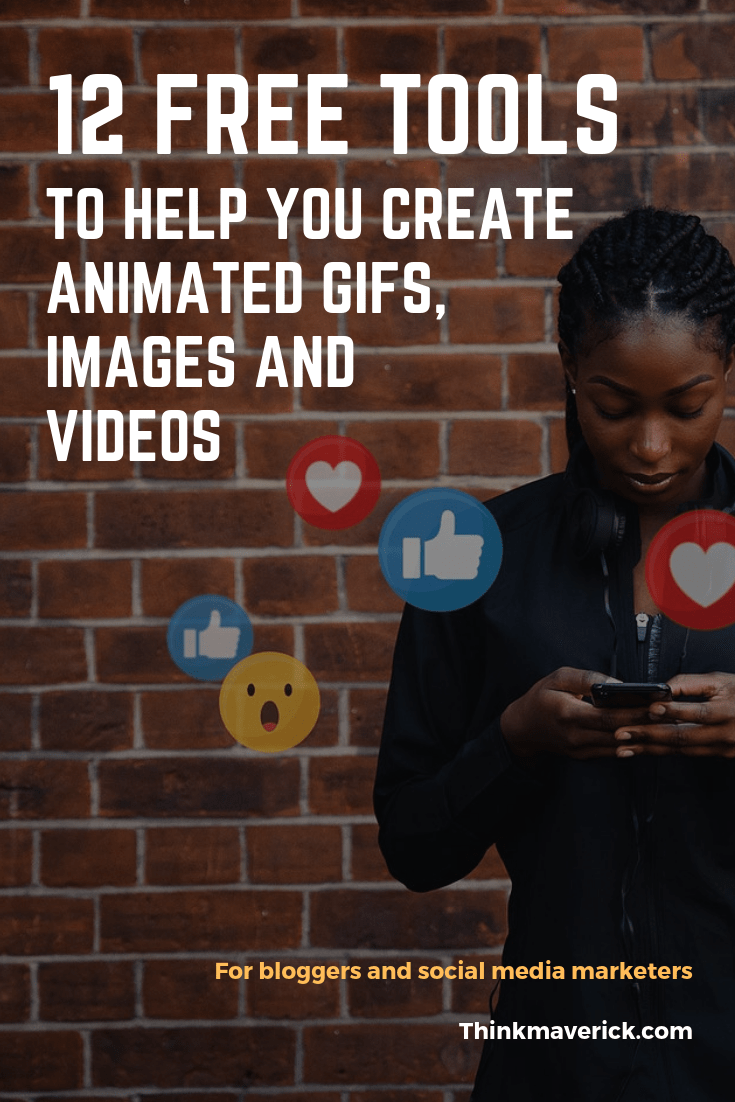 Looking to increase engagement, exposure and conversion on social media?
Then, create engaging content with beautiful images, animated GIFs, and captivating videos, is the way to go.
Don't just take my word for it. Let's look at these mind-boggling stats about video marketing:
52% of marketers say video is the type of content with the best ROI. ~ HubSpot
On average, people spend 2.6x more time on pages with video than without. ~Wistia
Social media posts with video have 48% more views. ~ HubSpot
Having the right tools is a great first step. It will save you loads of time and frustration.
In this article, I'll show you the best tools for creating attractive animated images and videos.
By the end of this piece, you'll know exactly how to easily add various types of visual content to your marketing strategy without spending a bundle or adding hours to your day.
If you're a long time reader of this blog, you'll know that I'm a big fan of tools. Check out some of my favorite FREE tools after:
Without further ado, let's take a look at this 12 best free online graphics tools that I've personally handpicked for you.
How to Create Shareable Images, Animated GIFs and Videos Image Creation Tools
1. MediaModifier – All-in-one Design Platform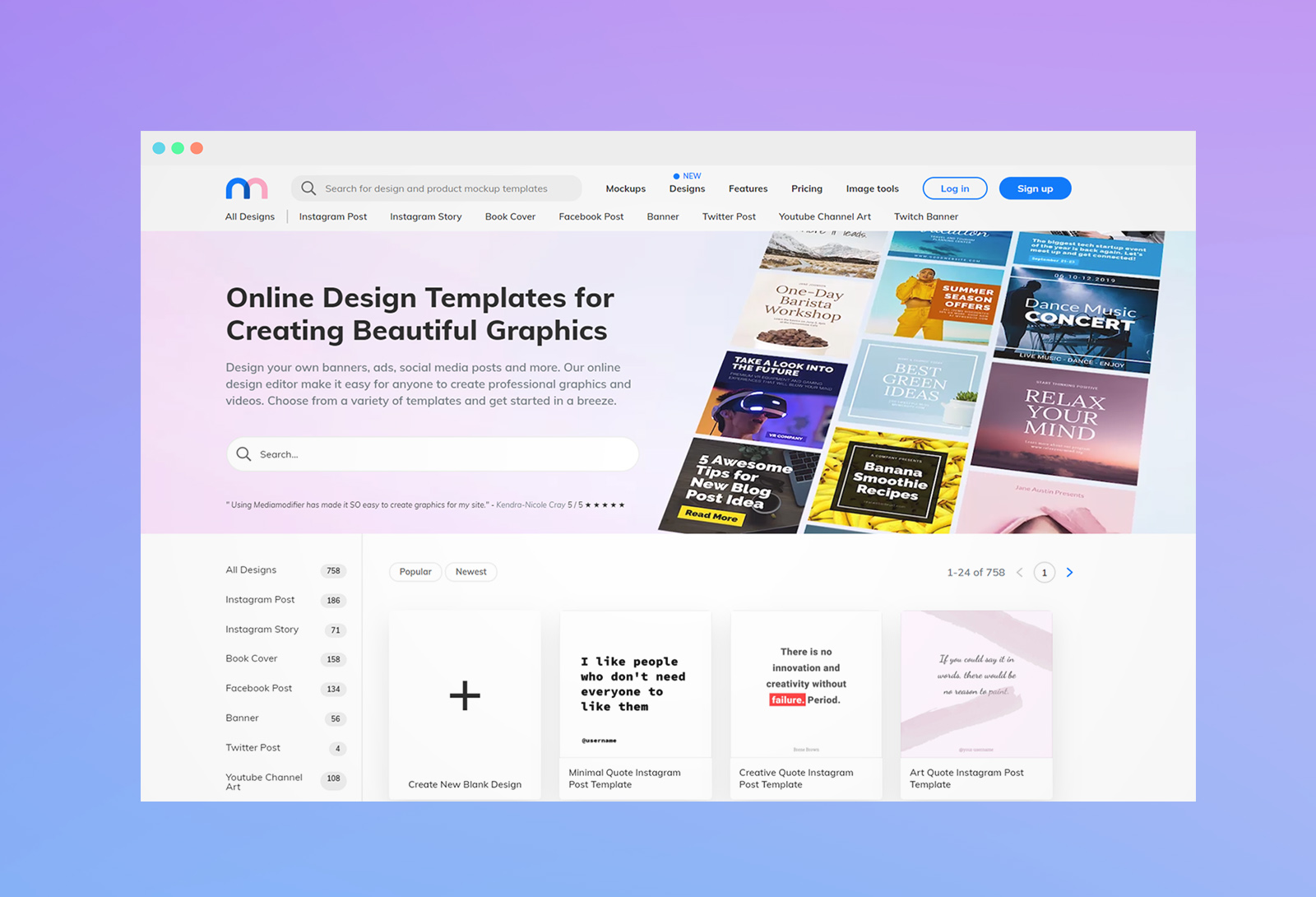 This tool is the bee's knee's when it comes to photo editing.
MediaModifier makes design simple for everyone.
It has everything you need to create, customize and edit stunning social posts, cover images and blog images.
What's great about MediaModifier is that it offers thousands of ready-made design templates and 3D product mockups. You can start using MediaModifier to create any kind of quick graphics for completely free, without even signing up!
MediaModifier works pretty much like Canva, the powerful drag and drop editor allows you to easily create your graphics in just a few clicks.
However, unlike its competitors, MediaModifier doesn't upload your images to the server. This makes the process of designing so much faster.
Take advantage of the affordable subscription plan. You can create and download as many images and videos as you like (including commercial license) for just $9 per month (if paid annually).
If you are looking for an all-in-one web design tool, packed with a variety of features, MediaModifier is the ideal pick for you.
2. Stencil- Free and Simple Image Creation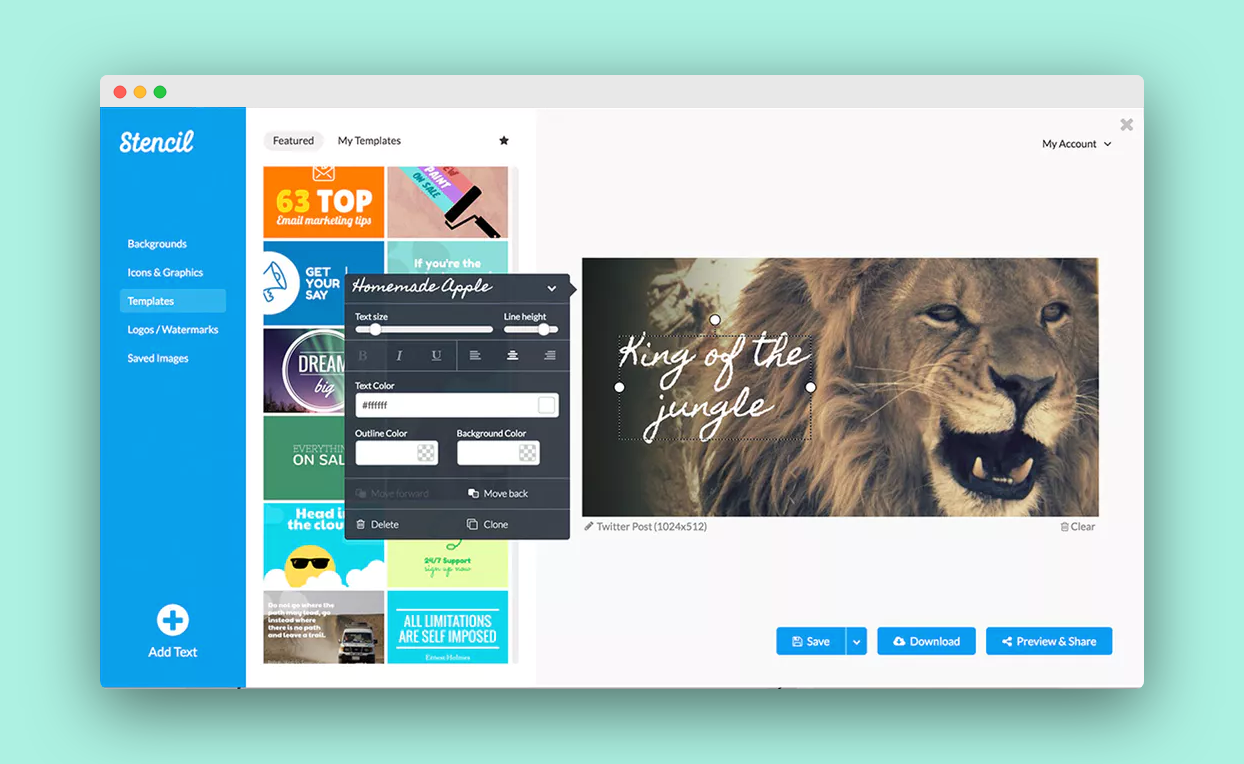 If you've used Canva— one of my all-time favorite tools– then you will find Stencil super simple and easy to use. 
Unlike Canva, Stencil is more specifically targeted towards shareable social images.
The thing we love most about Stencil is that you can create attractive quote graphic, fast!
It has thousands of built-in quotes which you can search and instantly add them to images.
Take a look: In this example, I'm searching for Success quotes.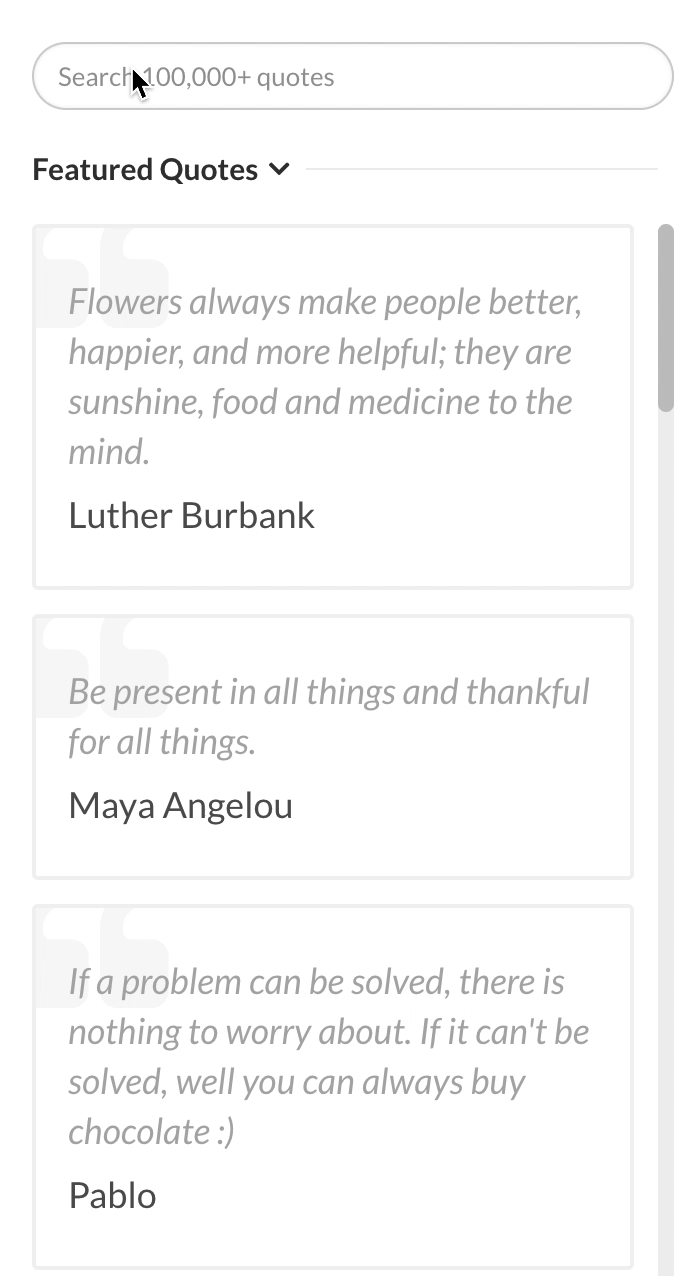 The free version of the app offers 10 images/month, access to free photos and icons and 10 Instagram SMS per month. If you choose the PRO version, you'll have full access to every single feature the app offers such as brand the images with your own logo.
3. Twimmage – Convert Tweets into shareable images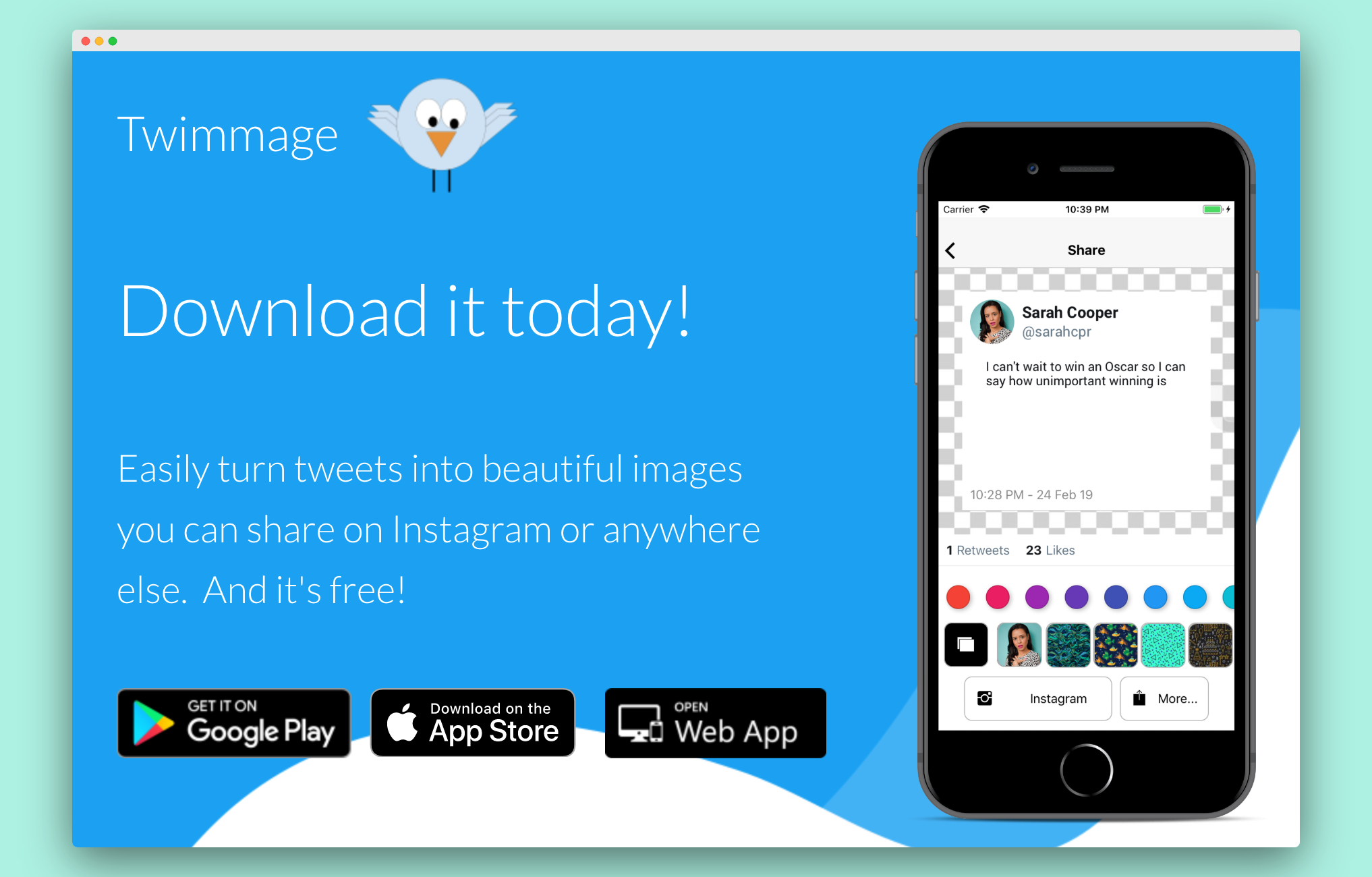 Struggling to come up with great content ideas?
You'll love this simple tool.
With Twimmage, you can instantly transform a tweet into a beautiful image to share on Instagram or anywhere else.
Here's how it works:
choose a tweet that resonates with your audience by entering a Twitter username or tweet URL.
Select a custom background, custom color or a creative background.
And then share it with the world.
You can either use it on a web browser or download the mobile app (Google Play and App Store) to make stunning images on the go.
Even better, it's completely free, no watermark.
4. Screely – Instantly turn screenshots into beautiful images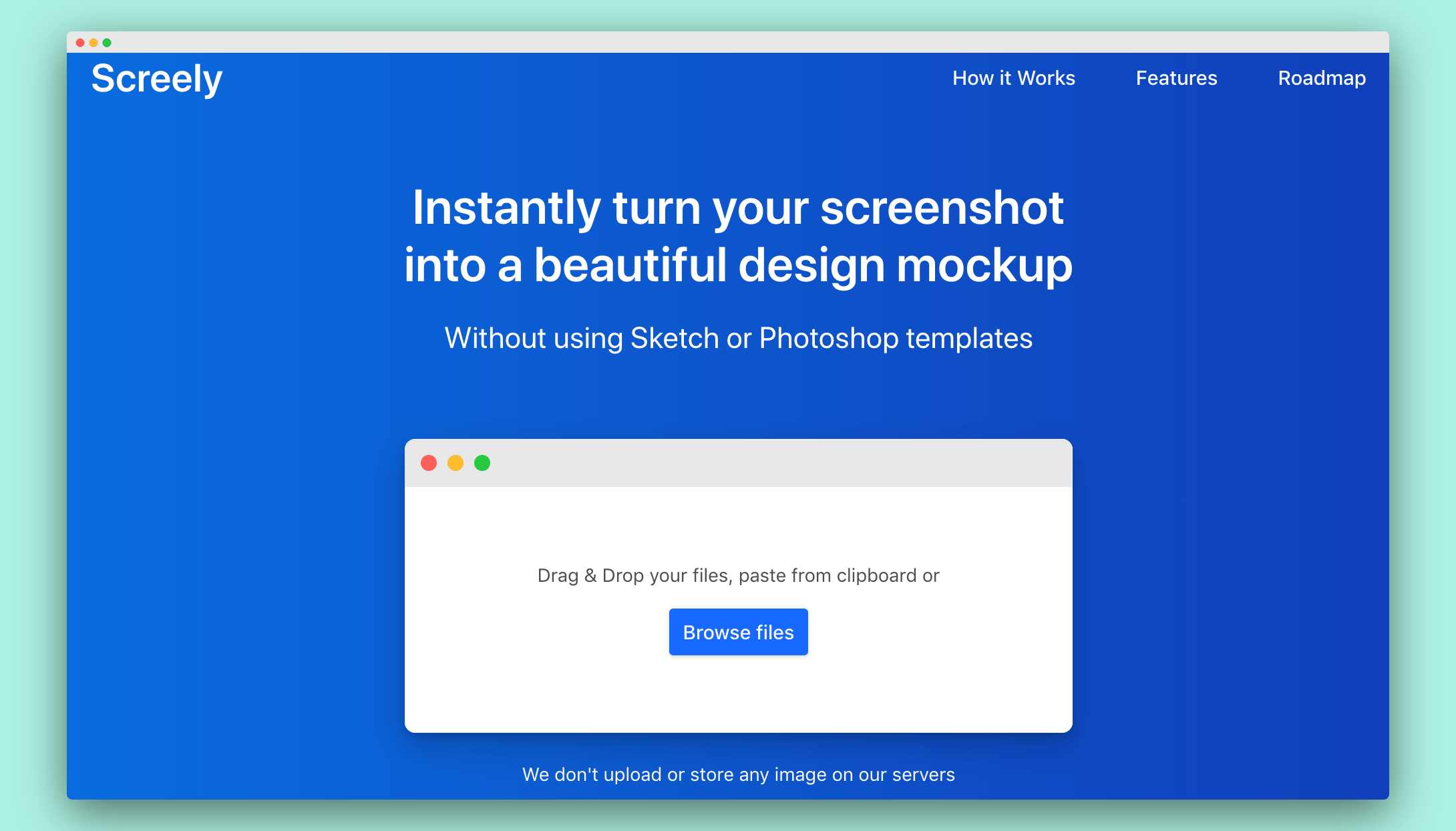 A creative way to share screenshots with your audience.
Screely allows you to quickly turn your screenshot into a beautiful image you can share on Twitter, Telegram, Instagram, Slack and blog without needing Photoshop templates!
Actually, this is the tool I'm using to create all the images in this article.
There's practically no learning curve. Simply upload an image, select your background color, hit the download button and share it.
Quick tip: Download their chrome extension so you can screenshot a webpage and open it in Screely with just 1-click!
Video Creation Tools
5. Animoto- Fully automated video editing tool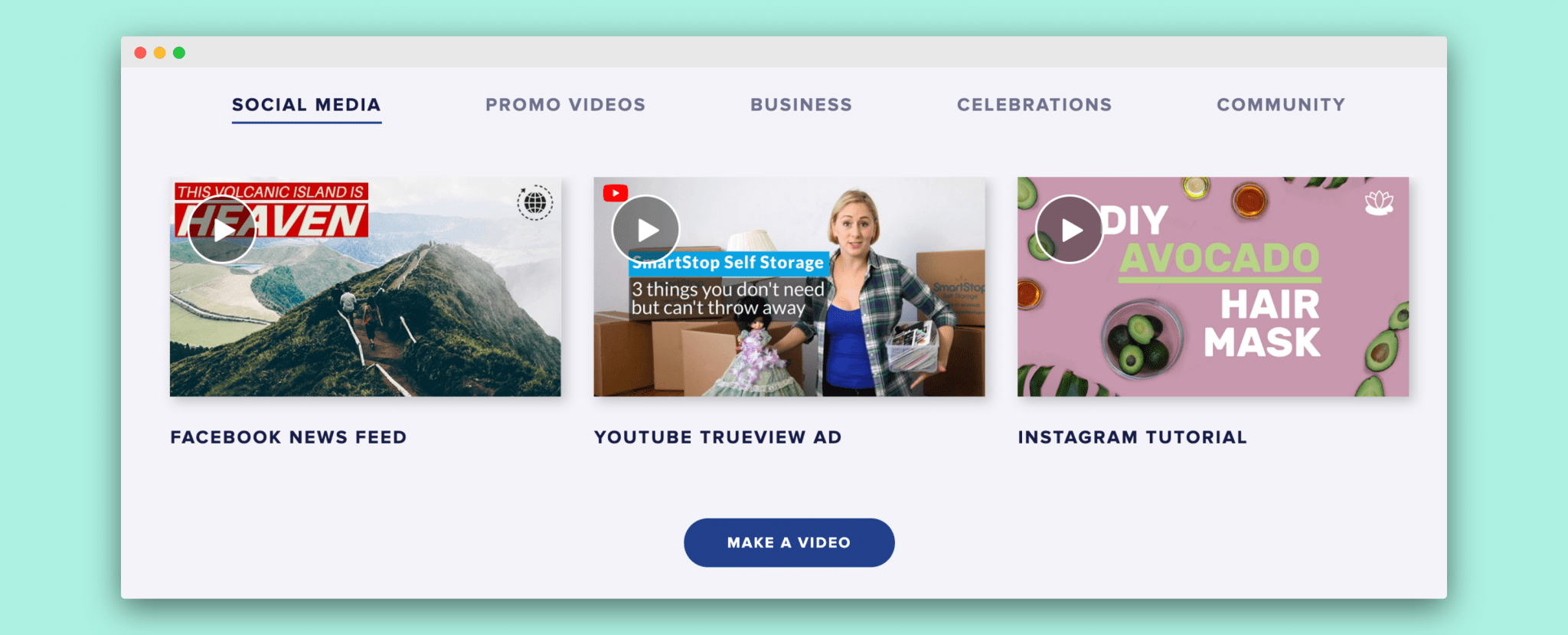 There are tons of great video editing apps out there, but most of them require you to have video editing skills. Animoto doesn't.
With Animoto, you can quickly create slideshow, presentations and social media videos with a couple of minutes.
Its drag-and-drop interface is very simple to use.
First of all, pick a pre-built template from the library or start from scratch.
Then choose the photos and videos you want to use.
Adjust fonts, colors, music and more to customize your video that matches with your brand with ease. And Animoto will do the rest.
That's it- now you can share the finished video to social media, email, websites and blogs.
If, like me, you don't have any video editing skill but want to make your own video, I'd suggest taking a test drive with their 30-day trial. See how it can help you produce create results with minimum effort.
Related: Animoto Video Maker: Does it live up to the hype?
Screen Recorder
6. RecordIt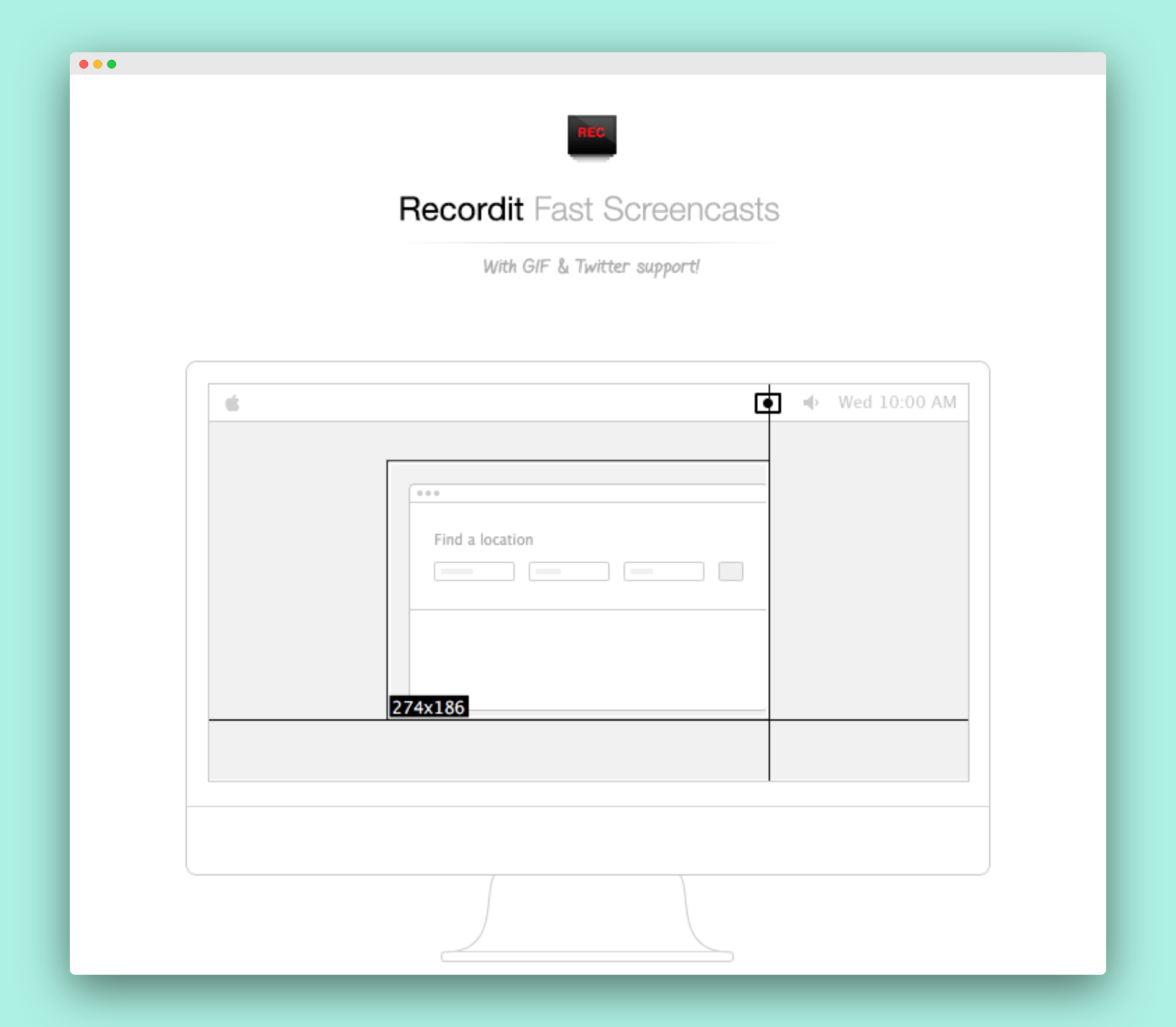 With Recordit, you can easily turn a screen capture into an animated GIF without any technical skills.
You can use it to record your screen, video demo, tutorial, games walk-through and everything you can think of right from your computer.
First of all, you'll need to download the app for Mac or Windows. Click on the record button to select an area of your screen that you'd like to capture. When it's done, click on the same button to generate your GIF instantly.
It's completely free to use. No sign-up required. No watermarks.
Free Videos for everyone
7. Pexels Video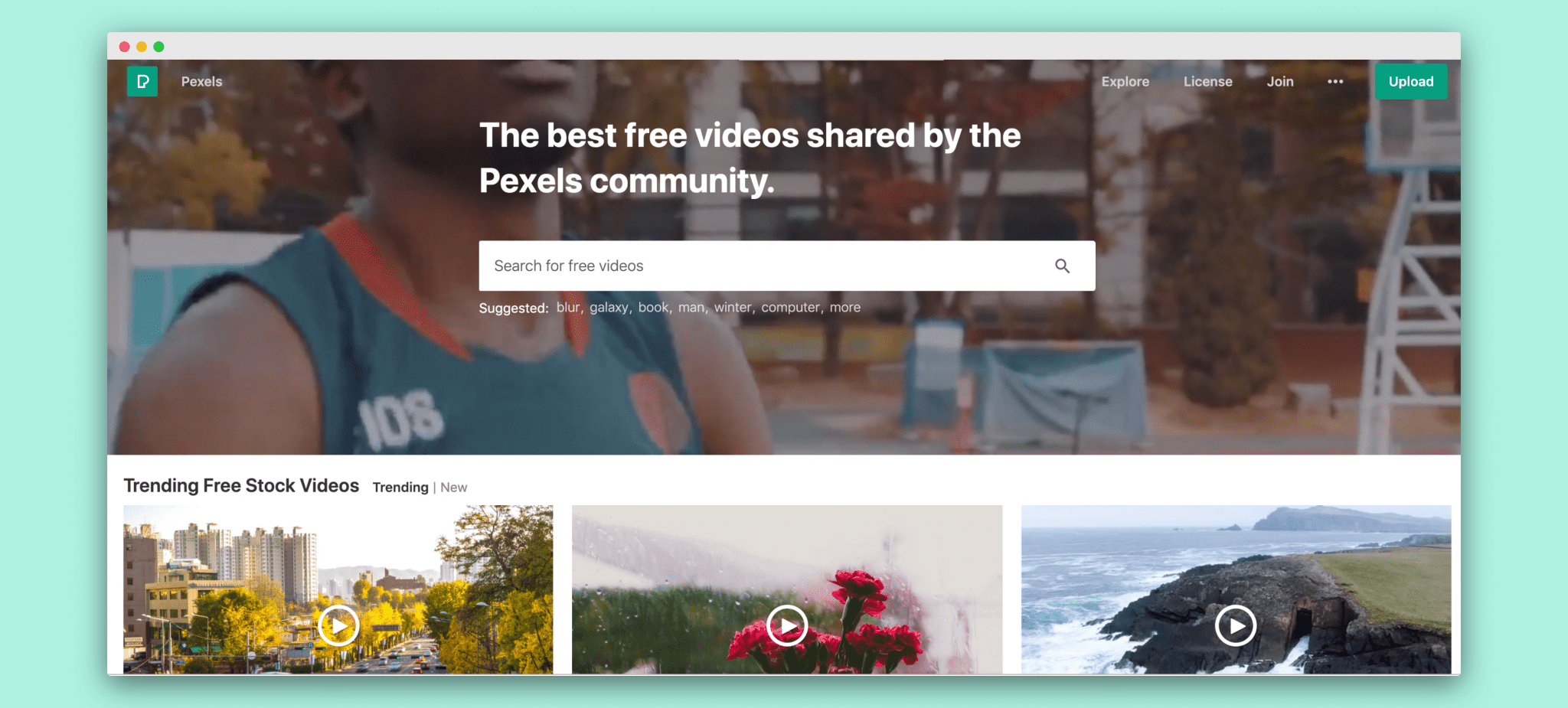 Forget about creating your own custom video. Use any high-quality videos for free at Pexels video.
If you don't already know, Pexels is one of the top websites to get royalty -free images and pictures.
With an excellent range of beautiful videos, you can easily find videos that suit your need.
Simply enter a keyword search, Pexels will show you all the relevant videos for your perusal.
You can then download the video that you like and use it for your promo video as well as landing page, social media and blog.
The best part?
Licensed under the Creative Commons Zero (CC0), you can use, modify, distribute all the videos for any legal purpose, even for commercial use, without asking for permission or attribution.
It'll save you time, money and oodles of frustration, so you can focus on creating awesome content and promoting your brand.
If you find it too troublesome to create your own video and prefer to use stock videos, then Pexel Video is perfect for you.
Animated GIF Maker
8. Crello- Create Animated Posts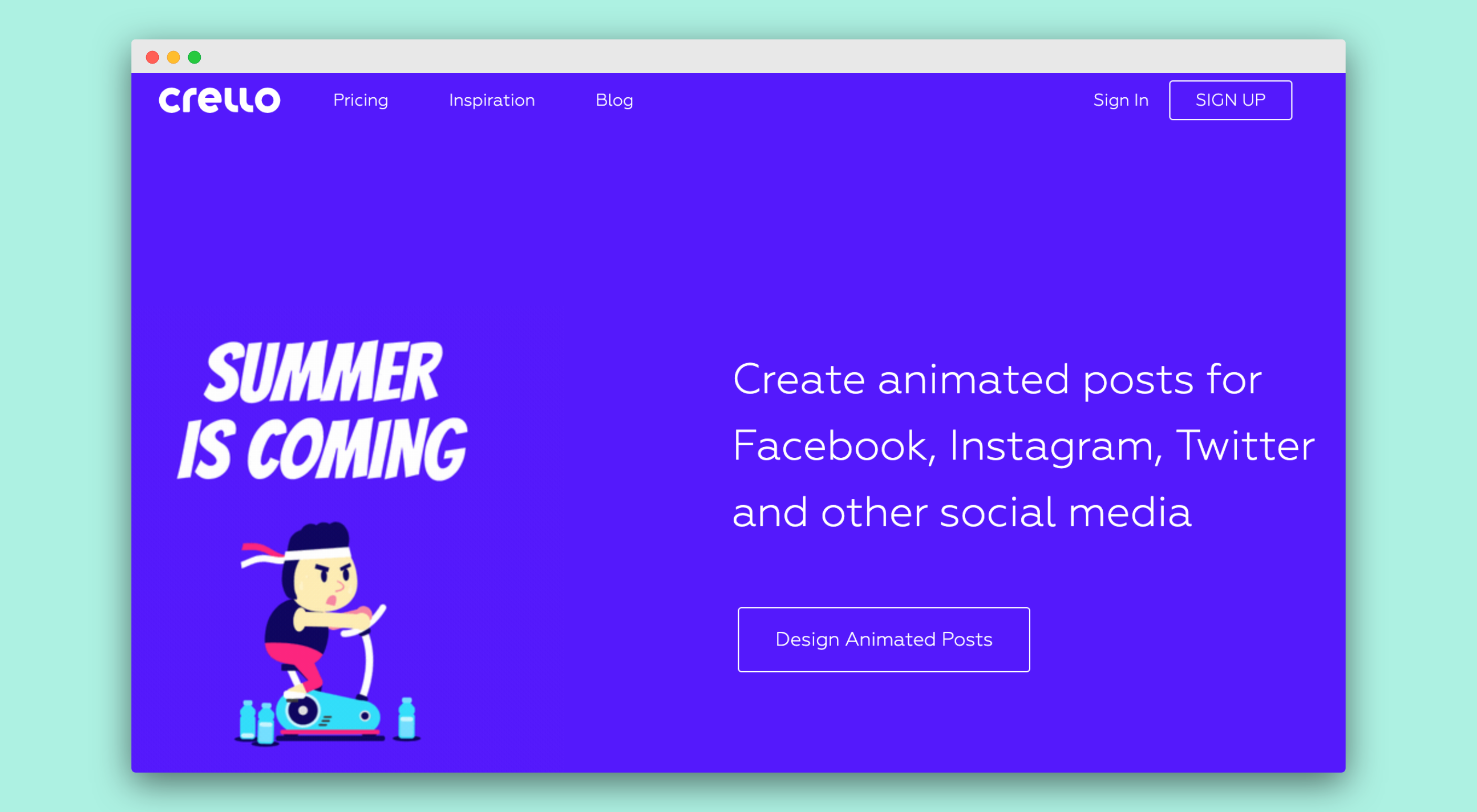 Crello is a free graphic editor that allows you to create images for social media, blog post, ads, print and other web-based graphic.
What makes Crello different is its animated designs. It helps you to create motion graphics that catch attention, make your social media account, blog or email stand out.
All animated templates are free, if you prefer, you can get special design elements for just $0.99.
Choose a template from their immense library of animated designs.
Modify it, customize text, add new elements.
And lastly, save your file in MP4 format and share it with the world.
9. GIPHY.com –Free GIF Maker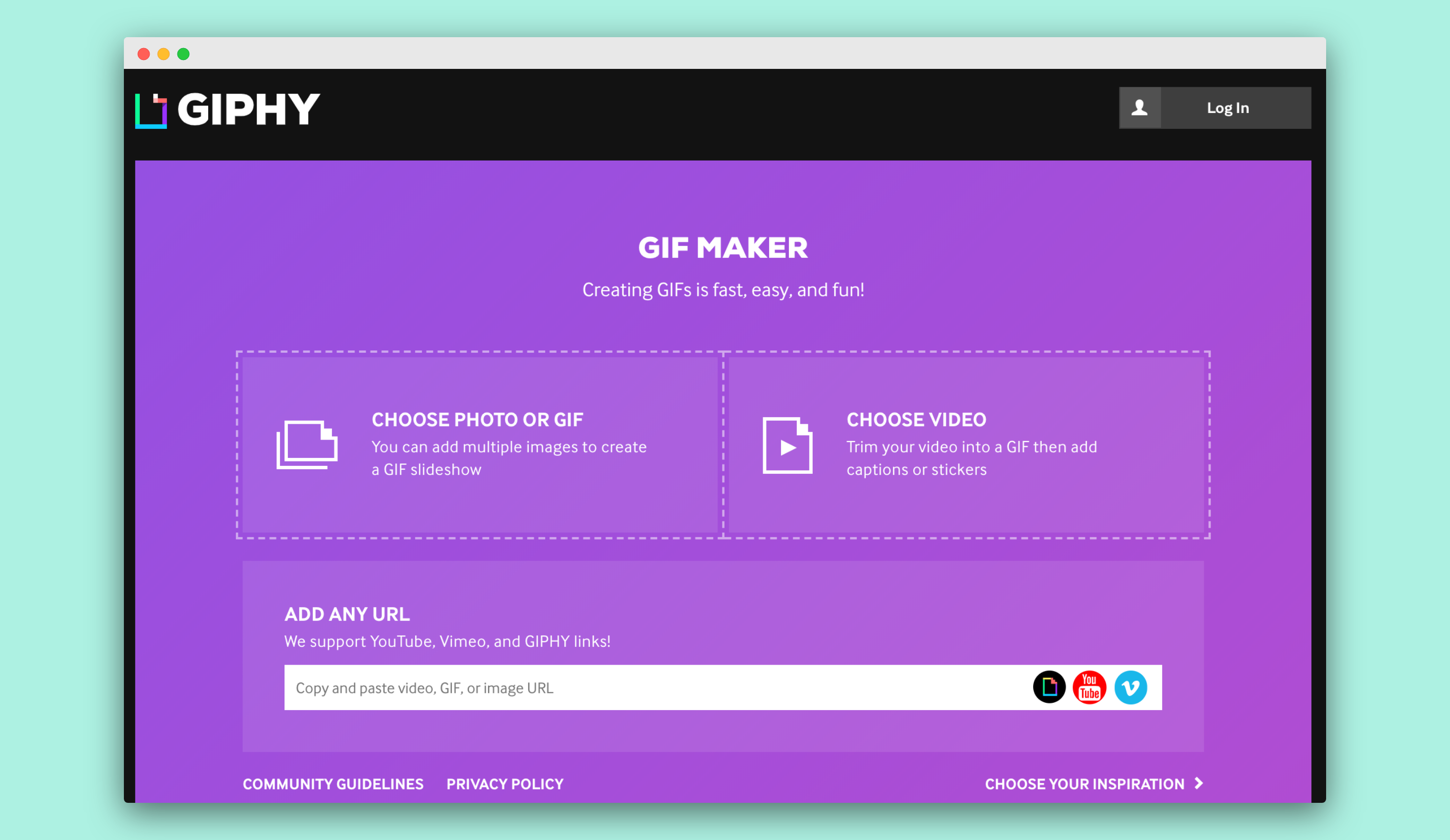 This GIF maker makes it super easy, fast and fun to create your own animated GIFs using 3 simple ways:
Method 1: Add multiple static images to create a GIF slideshow
Method 2: Upload your video and turn it into a GIF.
Method 3: Simply copy and paste any video, image or Youtube links to convert it to high-quality GIFs
You can add captions, stickers or filter effects on your GIFs too.
If you're looking for more GIF makers, try Gifski (for macOS only), EZGIF.com , Gifs.com.
To help you further, check out this post after:
Video Mockups Tool
10. Mock – Instantly create video mockups from screen recordings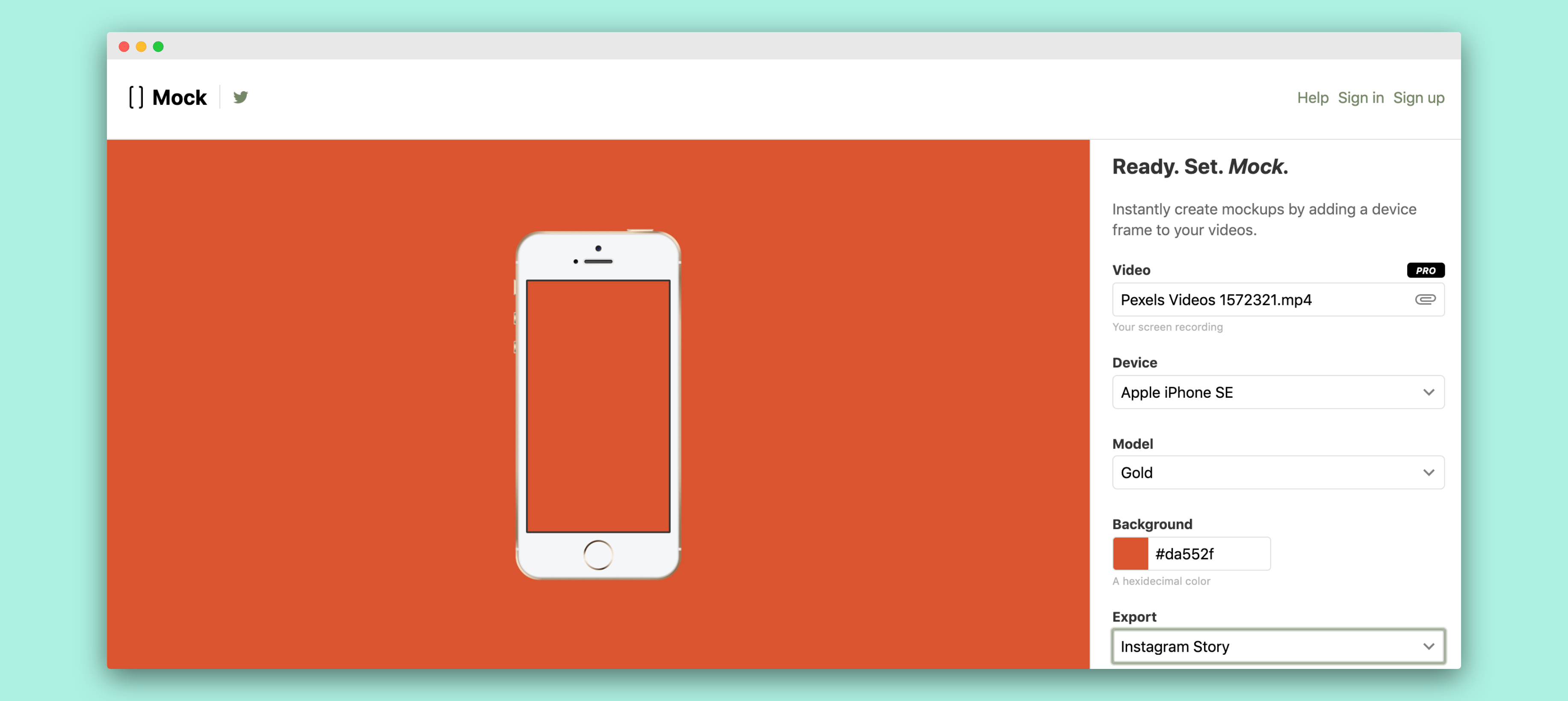 Looking to take your video marketing to the next level? Then Mock can help.
It's a free simple web app that allows you to create stunning video mockups from screen recordings with virtually no effort.
You can choose to add different types of device frames to your videos, such as Apple iPhone (SE, 8, 8 Plus, X), Macbook, iPad, Samsung Galaxy and more.
Here's it works:
Upload your video file
Select the device frame you want to use,
Choose a background color.
Enter your email to receive the completed video in your inbox.
You can then share the video mockups to Instagram stories, Youtube, Twitter and Facebook posts.
11. Live Mockups – Create engaging Video Mockups for free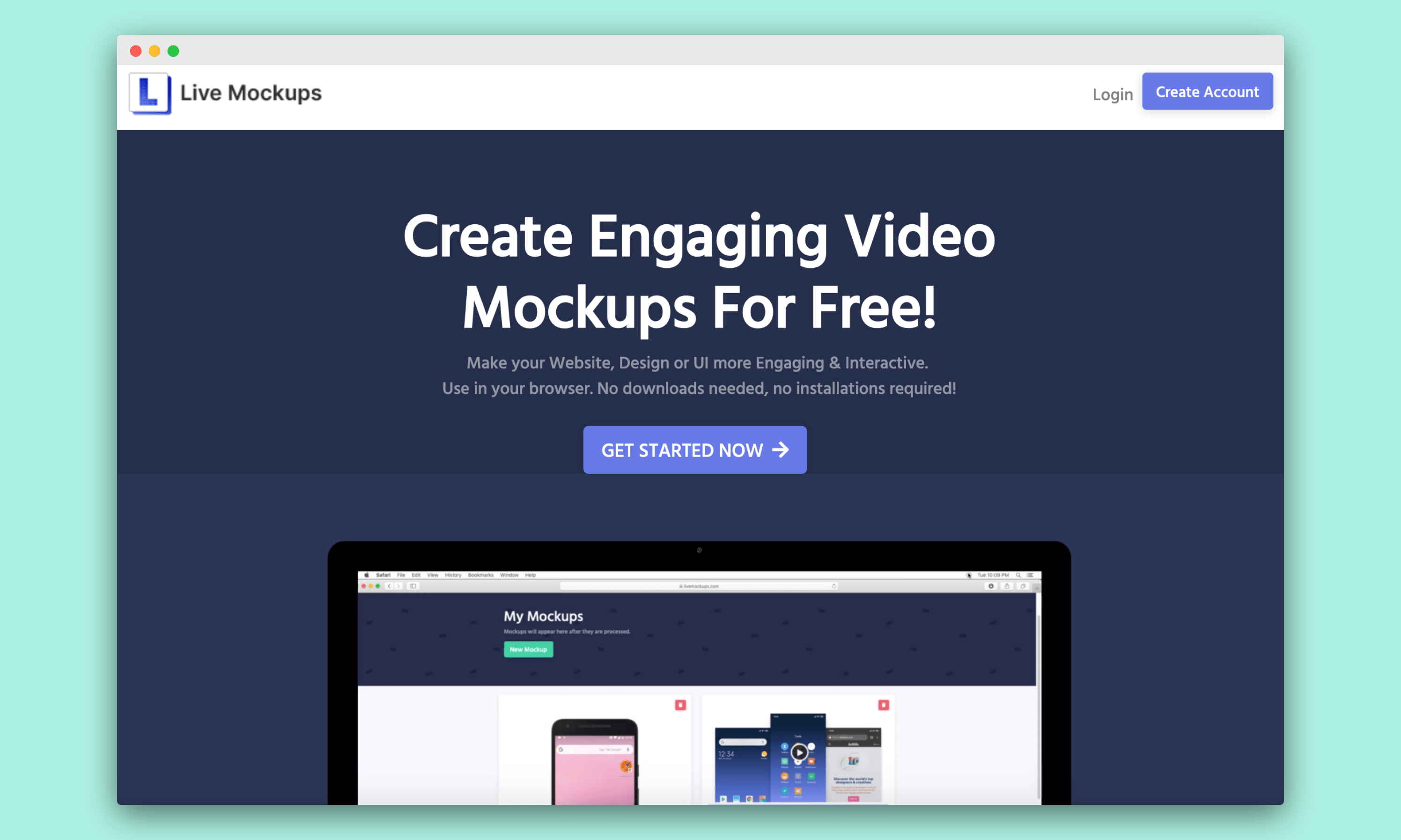 Live Mockups is another great tool that lets you make mockup videos with devices in seconds.
Compare to Mock, Live Mockups offers more features like upload your own background images and add text to your video.
But you'll need to create a free account first before you can start using it. The free version only allows you to create one video mockup per month. If you like, upgrade to their Pro plan which you can generate unlimited video mockups with no watermark for just $5 per month.
12. Mokup Frames – Create amazing Dribbble-ready GIFs or videos in a few clicks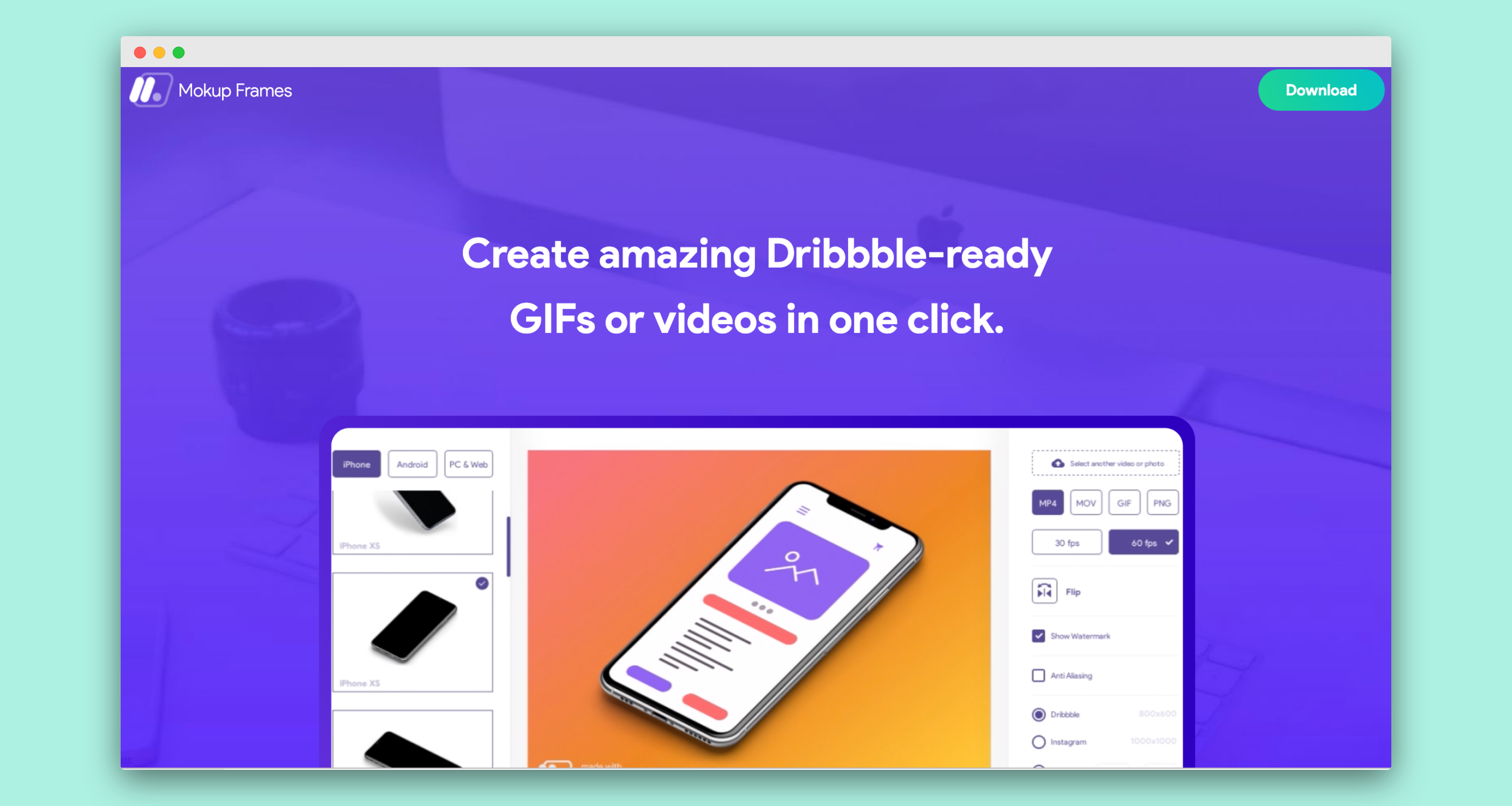 This drag-and-drop tool helps you to create amazing Dribbble-ready GIFs, Images or Videos in 3 simple steps:
Select a video
Choose a device template: iPhone, Androids, PC or web
Save the finished video as GIFs or MP4
You have to download the app for Mac or Windows to get free or premium access to this handy tool.
By showcasing your designs, work or products on a screen of real devices can help you impress your followers and stand out from the crowd.
Conclusion
So there you have it!
12 best tools that help you to make shareable images, animated GIFs and videos online in no time.
It's a fun and effective way to engage your audience, grab their attention, make an announcement and help convert visitors into leads, customers and loyal followers.
No expensive software, no prior experience, and no design skill needed.
Best of all, most are free, or at least offer a free version or trial and they won't host your designs on their site.
What do you think? Do you make videos, animated images or GIFs for your marketing strategy? Why and why not?
Do you have any favorite free resources that I didn't mention in this post? Do share with us in the comment below.
And lastly, if you liked this post, don't forget to share it on Facebook, Pinterest, and Twitter.
If you are interested in learning more about my entrepreneurial journey, Check out this ThinkMaverick Magazine App.
If you ever want tips please follow my Instagram page and ask away.