So, you've decided to start investing in Bitcoin (BTC). I'm glad you want to become a (greater) part of – what I believe is – financial revolution. Now what's your next step?   Find the right Bitcoin exchange that offers you world class security, services, features, user experience (UX) with the best fees!   Buying…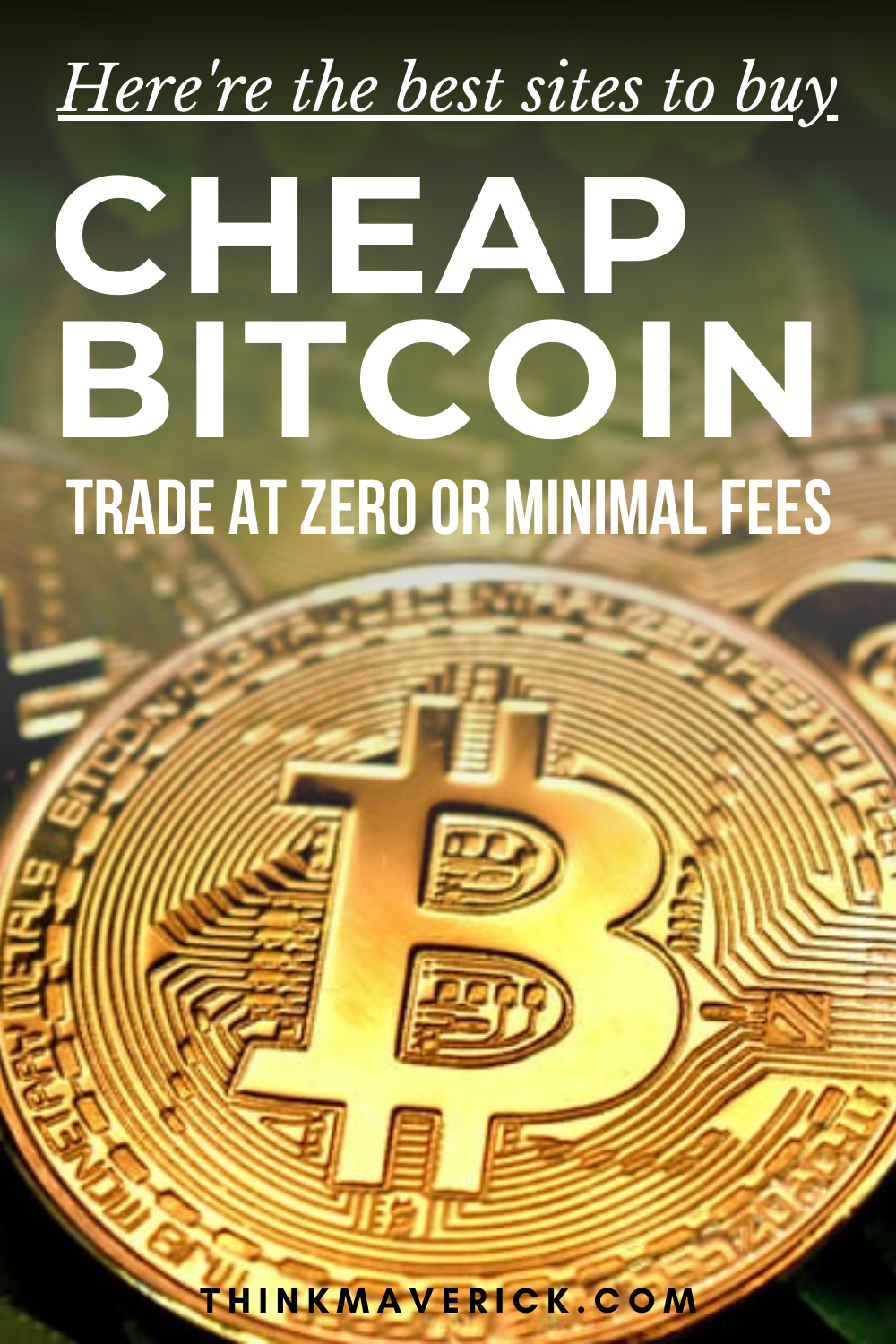 So, you've decided to start investing in Bitcoin (BTC). I'm glad you want to become a (greater) part of – what I believe is – financial revolution.

Now what's your next step?
Find the right Bitcoin exchange that offers you world class security, services, features, user experience (UX) with the best fees!
Buying Bitcoin is getting easier and simpler. There are many crypto exchange services that will take your local currency and give you Bitcoin, each of which has its own fees.
Now WAIT! I know what you're thinking. 
"I thought Bitcoin was supposed to remove the middleman entirely. Why should I trade on exchanges that charge high fees?"
While there are several ways to buy Bitcoin, cryptocurrency exchange is the easiest way for most people to convert fiat currency into Bitcoin.
The platform provides a safe and simple way to buy/sell without having to trust the other party. In exchange for their service, you need to pay small fee every time you make a trade. From transaction fees to trading fees, withdrawal fees, deposit fees, and escrow fees. And it can all add up.
In general…
Buying Bitcoin with bank transfer is the cheapest payment method
Buying Bitcoin using a credit card is convenient but expensive
Buying Bitcoin without paying any fees is possible via P2P exchanges like Localbitcoins and Paxful.
So can you actually buy Bitcoin at no commission or for a minimal fee?
The short answer is yes.
Read on to find out top 10 Bitcoin exchanges with the lowest fees to buy or sell cryptocurrency.
Note: If you're looking to buy, sell or trade large amounts of cryptocurrencies(>$10,000 USD), we recommend using Bitcoin Over The Counter (OTC) trading services which are better at handling large volumes with more competitive rates. Here's a list of the top 5 Crypto OTC desks.
Crypto Exchanges
Key Feature
Trading Fee
Deposit Fee
Withdrawal Fee
Coinbase
Most beginner-friendly exchange
Vary
Credit/Debit Card: 3.99%
Bank Transfer (SEPA/ACH): 0%
Vary
Phemex
Zero-fee crypto exchange
Maker fee: -0.025%
Taker fee: 0.075%
Free
only pay for Bitcoin network fee
Kucoin
Hold KCS and Get Kucoin bonus
Maker fee: 0.100% to -0.005%
Taker Fee: 0.100% to 0.020%
Free
Vary
Paymium
Lowest fees on the market
Maker fee: -0.1% Taker fee: 0.5%
Free
Free
CEX.io
Earn 7% cashback on your crypto purchases.
Maker fee: 0% to 0.16%
Taker fee: 0.10% to 0.25%
Vary
Vary
Binance
Buy cheap Bitcoin with credit card
0.1%
Free
Vary
LocalBitcoins
No fees (P2P) Exchange
Free
Optional: 1% advertising fee
Free
only pay for Bitcoin network fee
Paxful
No fees (P2P) Exchange
Free
Seller: up to 1%
Free
only pay for Bitcoin network fee
Which is the Cheapest Bitcoin Exchange?
1. Coinbase – Highly trusted crypto exchange with great reputation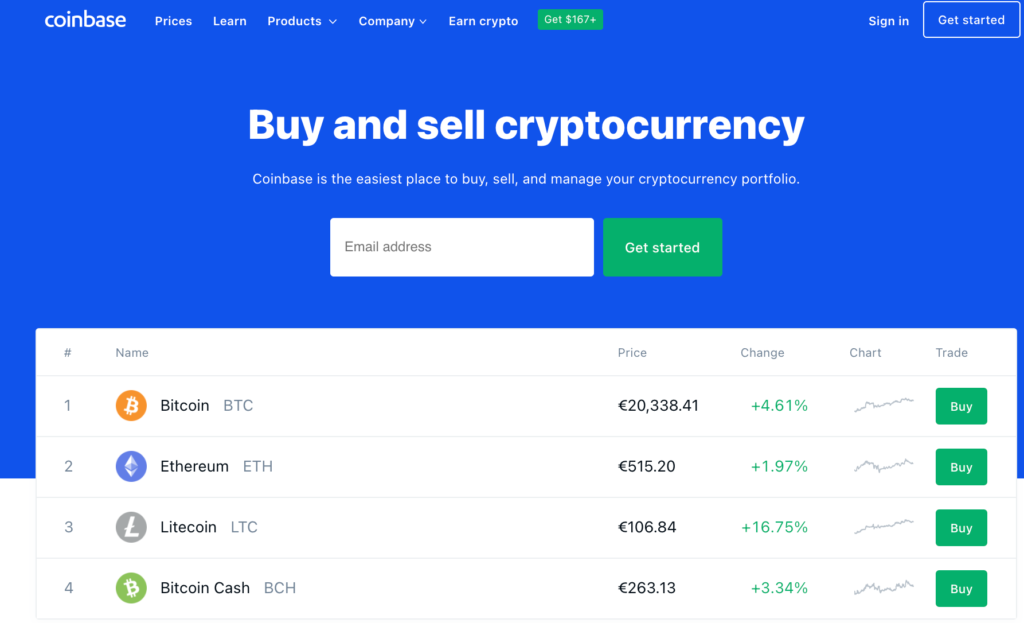 Launched in 2012, Coinbase is the world's most beginner-friendly cryptocurrency exchange to buy and sell cryptocurrency at low fees.
Coinbase not only allows you to securely trade major crypto such as Bitcoin, Bitcoin Cash, Ethereum, Litecoin but also provides a free wallet to store your coins.
( But: If you invest a significant amount, it's highly recommended "cash out" your bitcoins into a hardware wallet)
Buying and selling crypto on Coinbase is pretty easy and straightforward. Once you sign up for a free account and complete KYC process, you can start buying Bitcoin using a variety of payment methods.
Processing fees vary between deposit methods:
Debit card/ credit card (Instant buys): 3.99%
Bank transfers (SEPA/ACH): 0%
Wire transfer: $10 
If you want to minimalize your costs, consider transferring funds from your bank account via SEPA (EU) or ACH (USA)- it's free of charge.
If you just want to buy Bitcoin quickly and don't mind paying slightly more in fees, by all means, use a credit card/debit card.
When it comes to trading fees, Coinbase charge a flat fee for total transaction amount below $200.
| | |
| --- | --- |
| Total Transaction Amount | Fee |
| Less than $10 | $0.99 |
| Between $10-$25 | $1.49 |
| Between $25-$50 | $1.99 |
| Between $50-$200 | $2.99 |
If you trade above $200, Coinbase charges a variable percentage fee of 1.49%.
You can test it out with as little as $1.
If you're not 100% ready to take the plunge, don't worry. You can earn up to $161+ in crypto today by learning how they work. (Valid in certain regions only)
This way, you can get some free cryptocurrencies without investing your hard-earned money.
2. Phemex – Zero-fee Crypto Exchange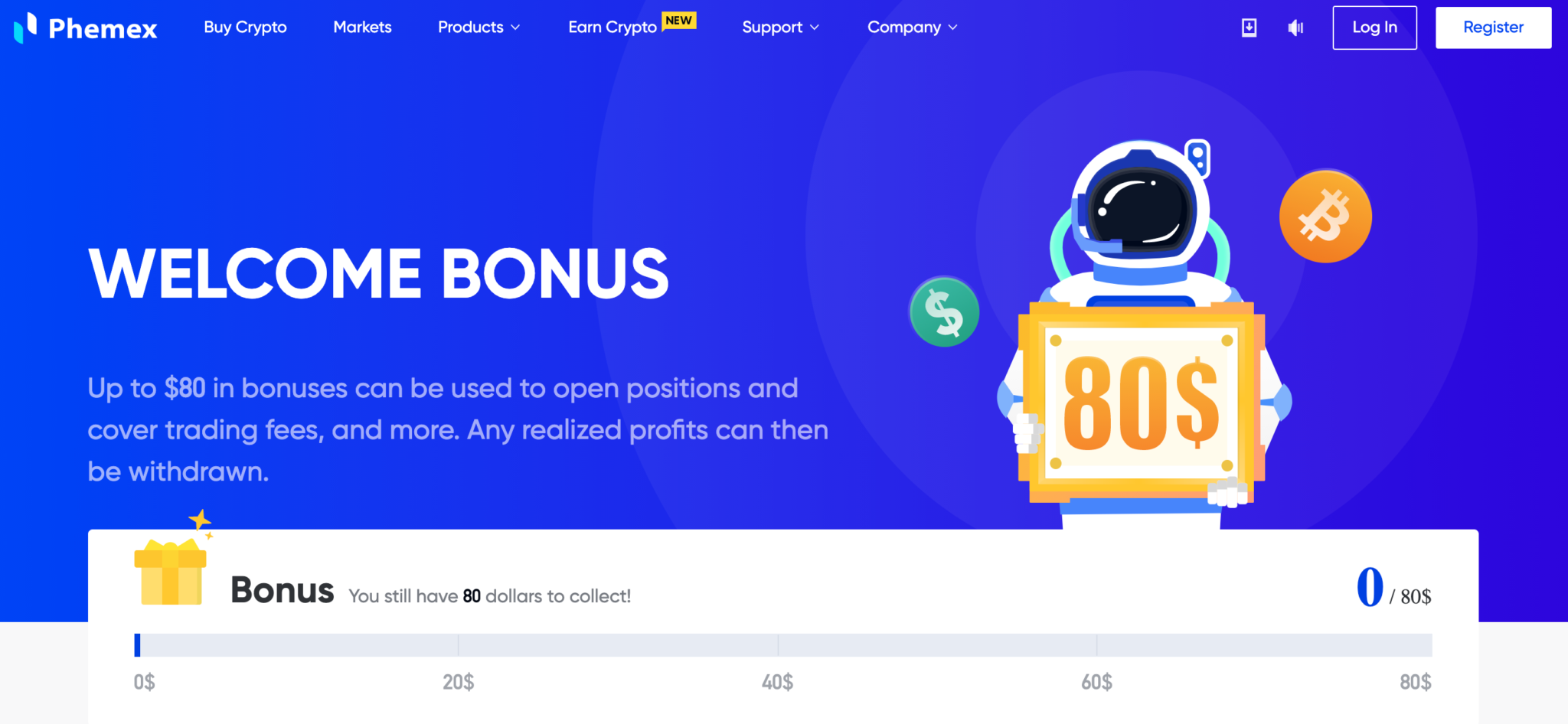 Founded by ex-Morgan Stanley executives in 2019, Phemex is a Singapore-based cryptocurrency trading platform that offers spot, derivative, and simulated trading all in one single account.
Phemex is a fairly new and young company as can be seen. To attract more people to trade using their platform, they offer the lowest fee on the market. You can buy and sell Bitcoin, Ethereum, Link and other major crypto with zero fees on its spot exchange.
What's more, Phemex rewards makers with 0.025% trading fees. For instance, you buy $1000 worth of Bitcoin, and you'll get $25 back directly into your Phemex account. This means, the more you trade, the more you earn. 
If you want to get your order filled immediately after you click the buy/sell button, Phemex charges a 0.075% taker fee.
Here's the exciting part- Phemex is now offering $80 for new users. Simply create your account here to receive up to $80 in bonuses. Get $60 instantly on your first deposit of 0.2 BTC on Phemex.
3. Kucoin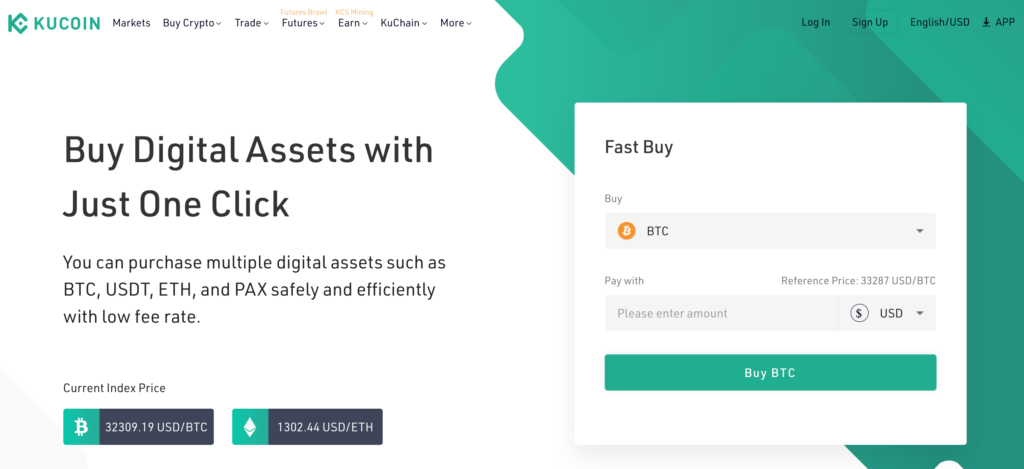 Established in 2017, Kucoin is a global crypto trading exchange that offers spot exchange, margin trading, futures, stacking rewards, lending services and fiat-to-crypto trading.
Buying cryptocurrencies using a credit/debit card is the fastest way to get hold of Bitcoin on Kucoin. Kucoin currently supports over 33 fiat currency, including USA, GBP, EUR, SGD, CNY, RUB, JPY, AUD, MYR, KRW, CAD and more.
They charge low trading fees (even 0 charges) on your trades.
If you buy/sell crypto on the spot exchange, Kucoin charge a flat fee of 0.10%. If you hold KCS (Kucoin's native token), you can trade at a discount.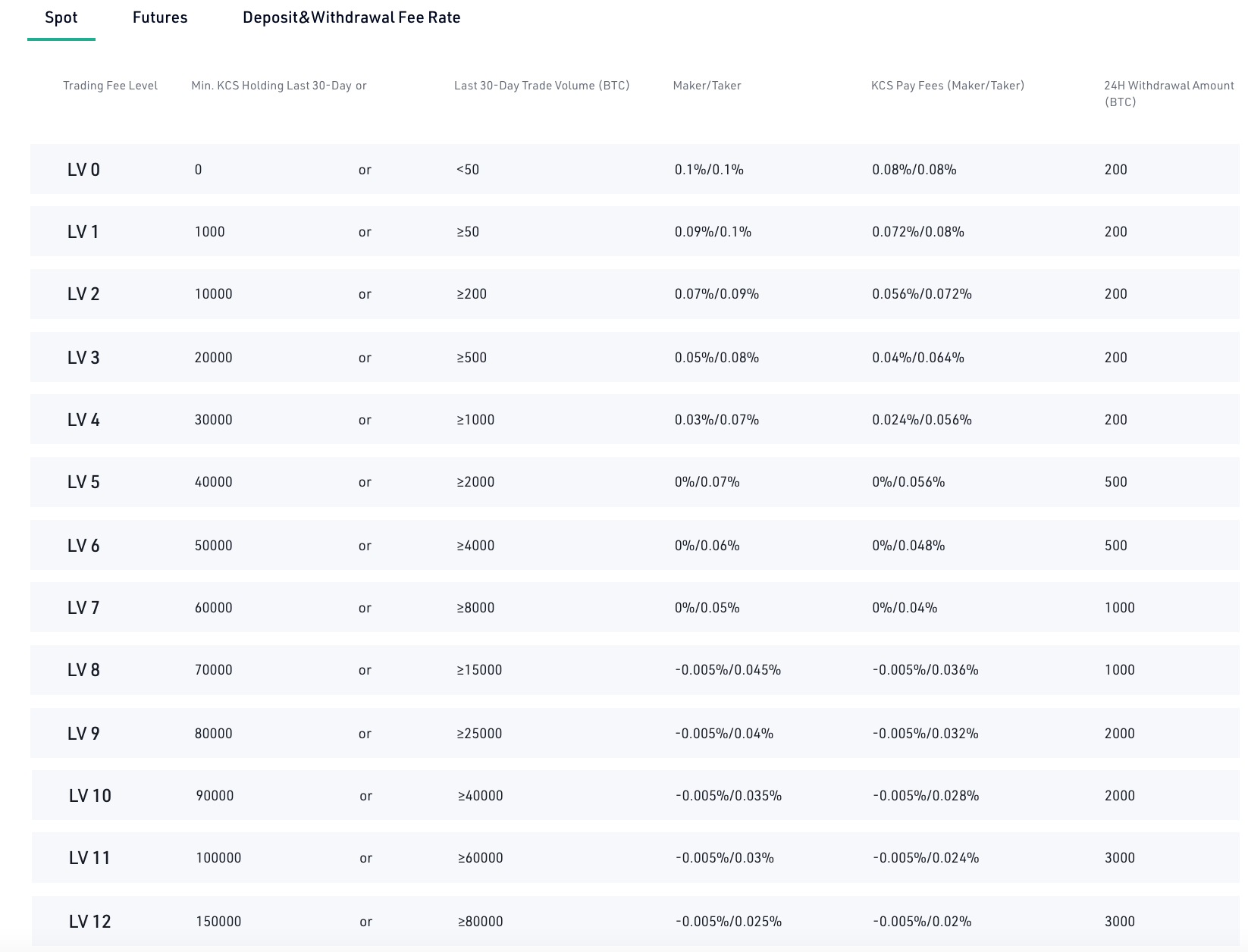 4. Paymium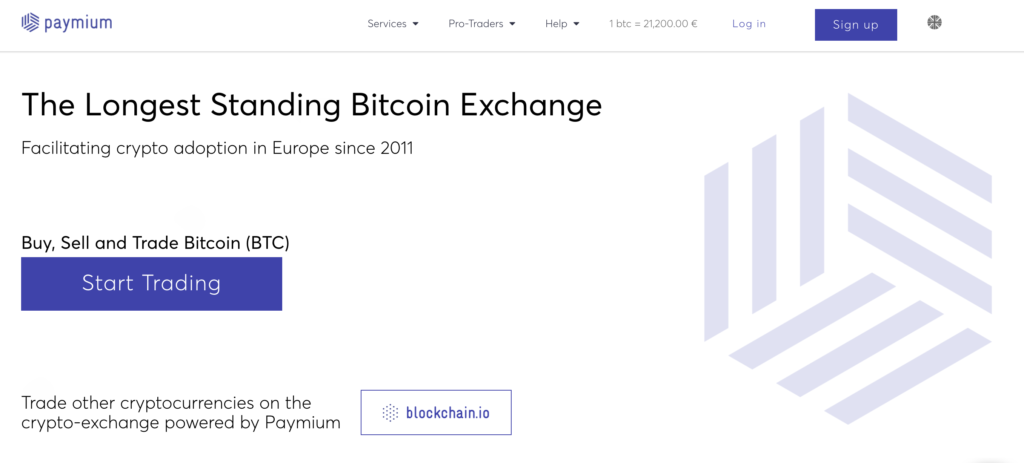 If you reside in an EU country and are looking to buy Bitcoin without fees, you should check out Paymium.
Paymium was the first European Bitcoin exchange founded in 2011.
What's great about Paymium is that you don't have to pay any fee to buy crypto. And you can also earn 0.1% back on every EUR you put into the exchange.
For example, you'll get back EUR100 directly into your Paymium account when you buy/sell EUR 1,000 worth of crypto.
If you're a taker, in which your order gets filled immediately at the market price, you need to pay a 0.5% fee.
Depositing funds onto your account with bank transfer is completely free of charge.
Not only that, Paymium doesn't charge you when you withdraw Bitcoin to your own wallet. Yes, you don't even have to pay for the Bitcoin network fee, Paymium will pay for you. You need to have a minimum of 0.001BTC on your Paymium account to initiate a transfer.
5.CEX.io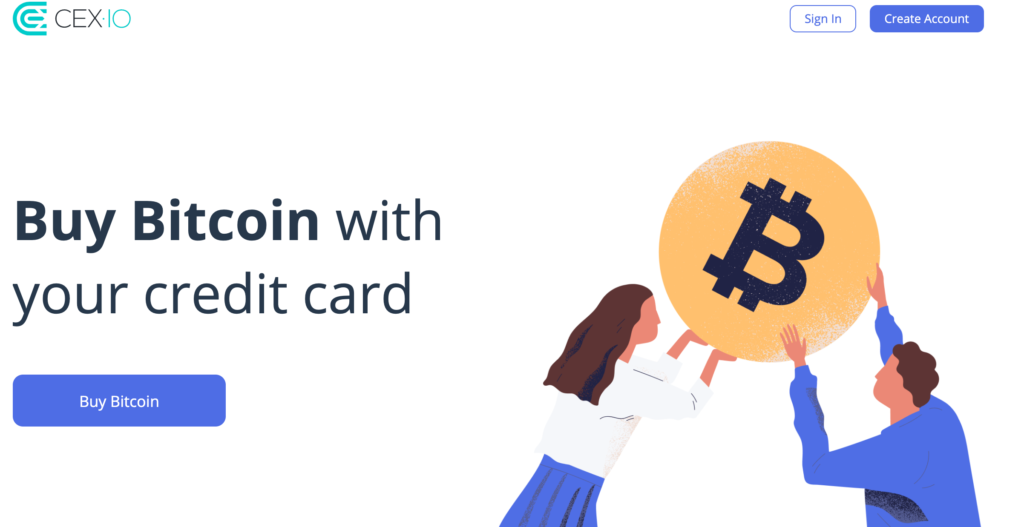 CEX.io is another reliable cryptocurrency exchange to buy cheap Bitcoin. 
With CEX.io, you can easily buy Bitcoin and other top cryptocurrencies using credit card (Instant Exchange service) or bank transfer (access to high liquidity order book).
Deposit fees vary depending on your payment methods:
VISA: A 2.99% fee of will be charged for each deposit.
MasterCard: 2.99% deposit fee
Skrill: 3.99% deposit fee
Bank transfer: no charge for deposit, 0.3% + € 25.00 per withdrawal
ACH: $0 fee on deposits and withdrawals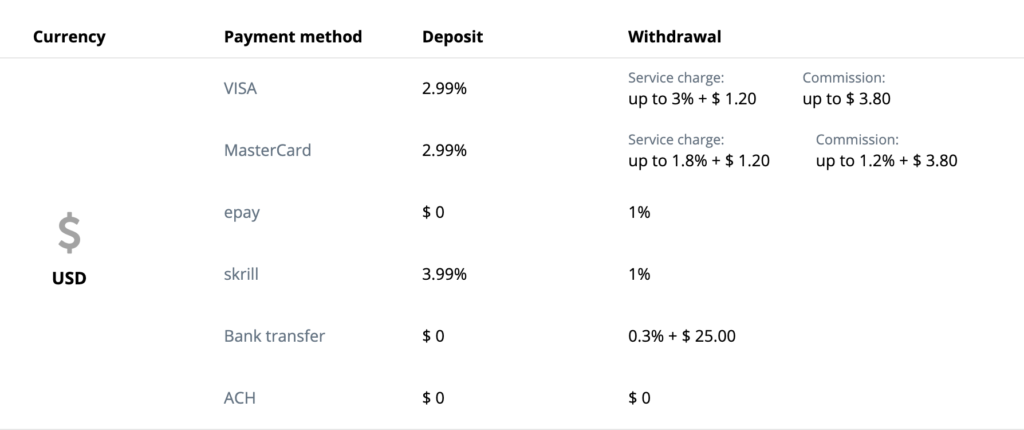 If you're using CEX.IO's Instant Buy Service, you can earn 7% cashback on your crypto purchases.
If you add fund to your CEX.IO account via bank transfer, you don't have to pay any deposit fee. You just need to pay a small fee each time you buy or sell, following this Maker-Taker Fee Schedule: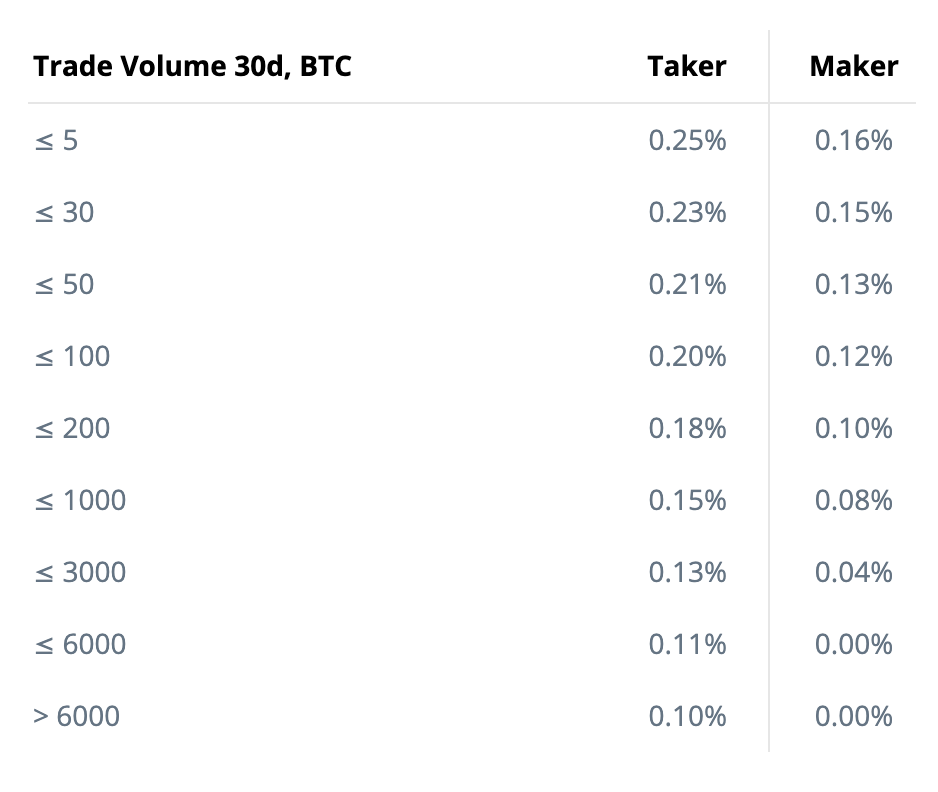 6. Binance – The Amazon.com of Crypto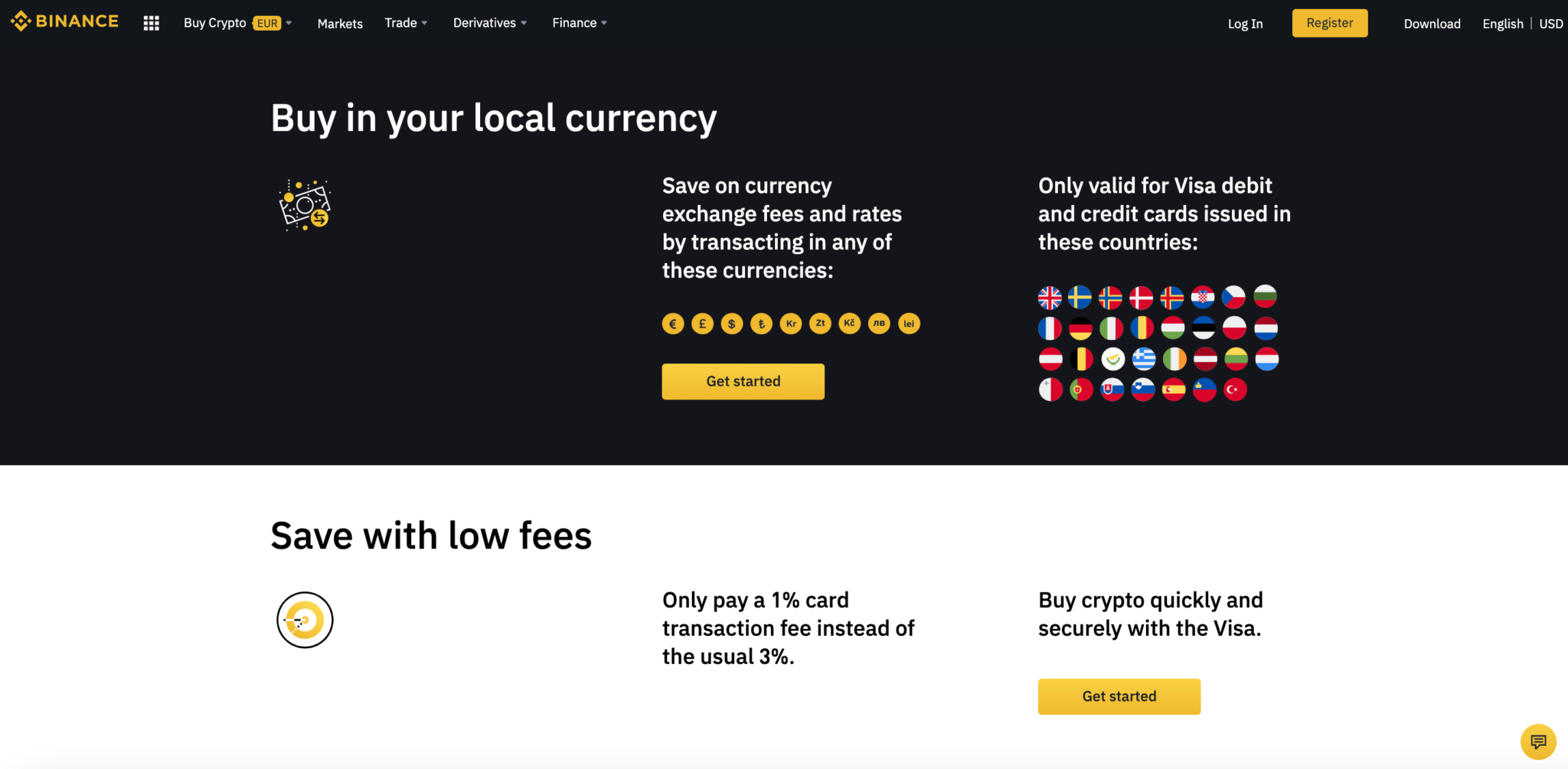 Binance is one of the most popular and fastest growing crypto exchanges on the Internet.
The spot exchange allows you to trade a variety of cryptocurrencies with 0.1% trading fee.
One notable feature of Binance is its Instant Buy with Visa. Allowing to quickly purchase Bitcoin while saving on currency exchange fees. 
Instead of regular 3% credit card transaction fee, you pay as low as 1% card fee- the most competitive in the industry!
If you've never dabbled with cryptocurrency exchanges before, you do so within minutes on Binance.
Sign up for a free Binance account
Verify your identity and add your preferred Visa card to your account.
That's it. You're now ready to buy crypto using your Visa card.
7. Localbitcoins – No fees (P2P) Exchange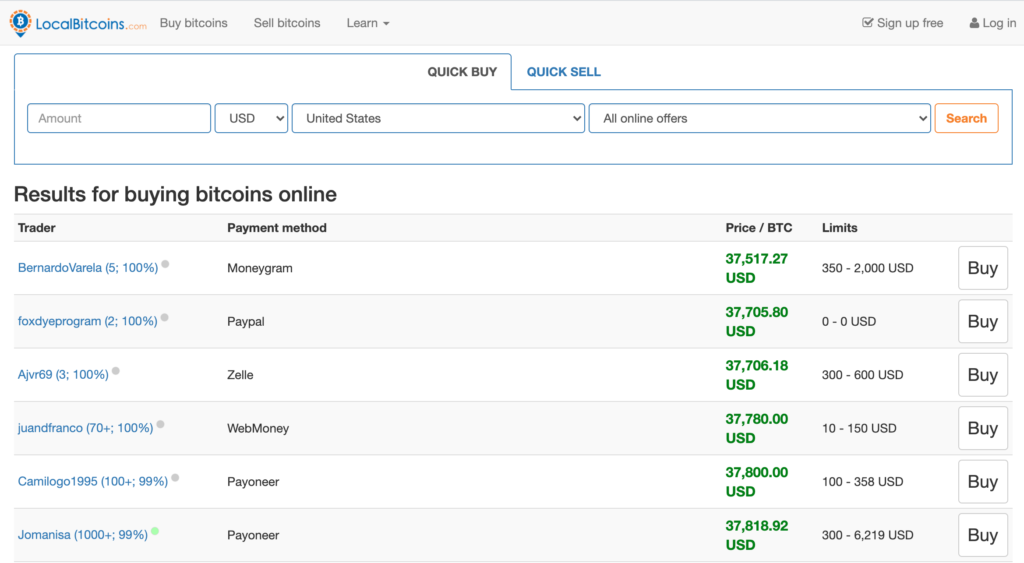 LocalBitcoins is a peer-to-peer Bitcoin marketplace.
Unlike the crypto exchanges mentioned earlier, LocalBitcoins doesn't provide a fixed market price. Rather, the platform simply connects you to other people who're looking to buy or sell Bitcoin.
You can shop around for the best deal.
The best part?
LocalBitcoins has a 0% trading fee. Registering, buying, and selling Bitcoin on LocalBitcoins is completely free.
Zero sign up fees
No deposit fees
No transaction fees
No deposit fees
No escrow fees
LocalBitcoins has an in-built bitcoin wallet where you can use to store your coins for free. You only need to pay for the Bitcoin network fees when you want to withdraw your Bitcoin to your personal wallet.
Optionally, you can choose to advertise your buy or sell offers for 1% advertising fee.
Other than that, the price you see is the exact amount you'll pay to buy a specific amount of Bitcoin.
However, since you're dealing with strangers, there are a few essential safety precautions you need to take to protect yourself from scammers.
For more information on how to buy Bitcoin safely on LocalBitcoins, visit this article with all my tips.
8. Paxful – No fees (P2P) Exchange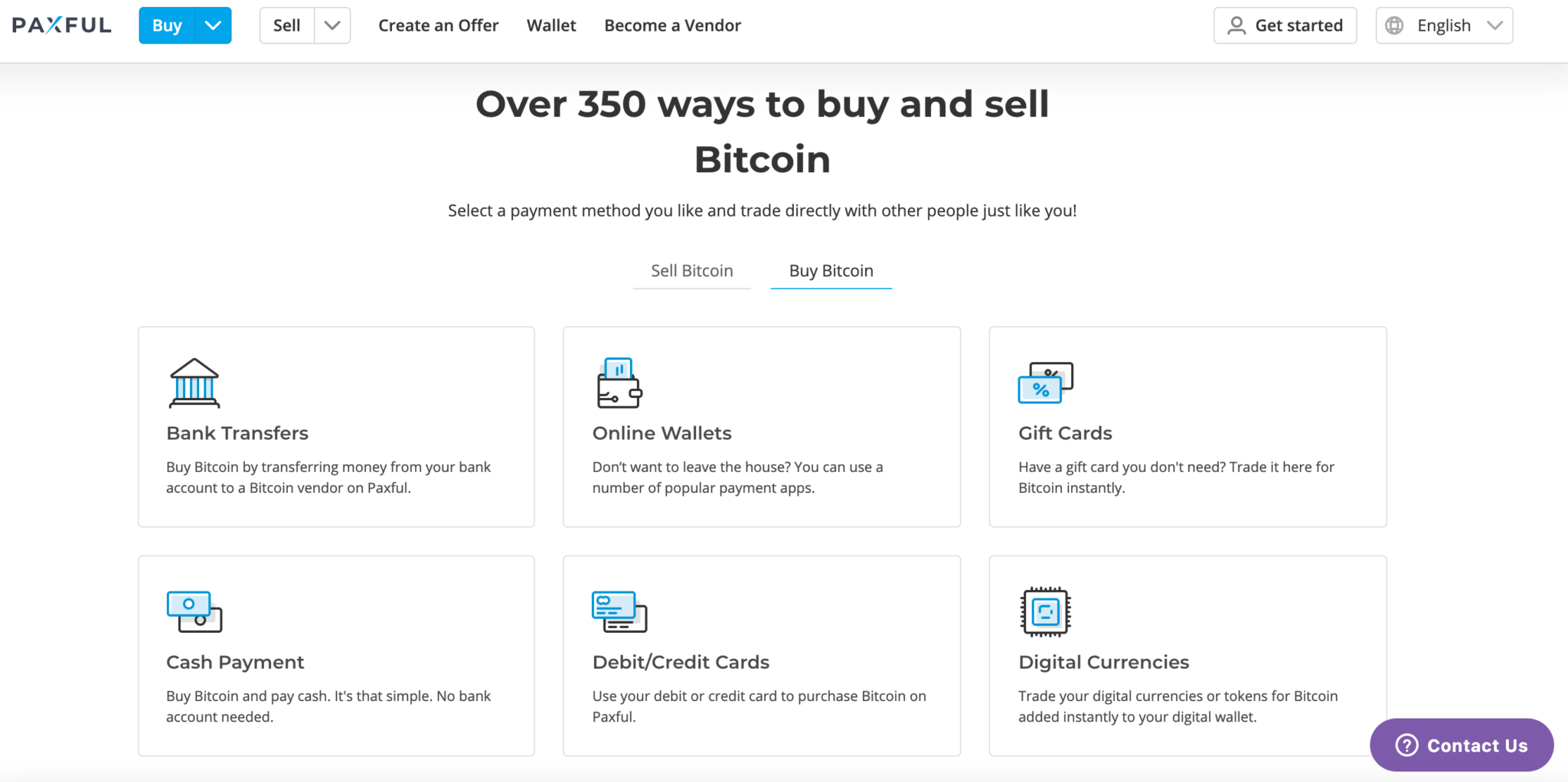 Similar to LocalBitcoins, Paxful is another global P2P Bitcoin marketplace that allows you to buy and sell Bitcoin directly with another person anywhere, as in a flea market.
Paxful simply facilitates direct trading between potential buyers and sellers by providing an escrow service. They will hold Bitcoin until the trade is complete and resolve any dispute.
Buying Bitcoin on Paxful is completely free of charge, regardless of your total transaction amount and payment method.
You search for a reliable seller that you want to make a trade with on Paxful, agree on the price and terms, make a payment directly to seller. That's it, you'll receive the specific amount of BTC directly onto your Paxful account.
So, how does Paxful make a profit and sustain its business?
Paxful charges a fee to the seller depending on the payment methods. 
Bank Transfers: 0.5%
Credit/Debit Cards: 1%
Digital Currencies: 1%
Online Wallets: 1%
Cash: 1%
Gift Cards: 3% for all gift card types (except iTunes and Google Play), 5% iTunes and Google Play. 
Since Paxful charges fee on sellers, it's great for buyers as they can buy BTC without fees on Paxful.
However, you'll need to take time and search around for the right seller. Also, some sellers may charge a premium on the BTC they sell to cover the costs of Paxful fees.
Conclusion
There you've it, the best cryptocurrency exchanges to buy cheap Bitcoin.
Be wary of companies that claim not to charge any fees or offer ridiculous cheap price. As Seneca once said, "Very often the things that cost nothing cost us the most heavily." 
Always use a reputable exchange with prove track record, as you'll need to trust them to keep your crypto assets and private information safe.
We've done the hard work for you. All the websites listed on the article are safe to use and allow you to buy, sell and trade Bitcoin at minimal/zero fees.
Each of these platforms offers slightly different features, interfaces and fees.
So hopefully with this list, I can help you choose the right crypto exchange to buy the cheapest Bitcoin.
If you're looking to buy large volume of crypto, you might need a different approach. Instead of using regular crypto exchange, Bitcoin OTC desks can help you make a large trade without affecting the market.
That's all for now. As the space of cryptocurrency is rapidly evolving, I'll be updating this post regularly with the latest info, so keep coming back to discover more.
Last but not least, if this post was of any help to you, please share it on Facebook, Twitter and Pinterest!
If you think any of your friends would find this helpful, share this post with them.
I've handpicked a few guides for you to read next:
I live and breathe making an income online. 
I'll be sharing more ideas and guides soon. Stay tuned.
If you haven't already, sign up here to receive my emails.