Are you looking for ways to increase your blog traffic? Repurposing your blog content into an email newsletter is a fantastic way to promote your blog. What's more, you can automate your blog marketing by sending RSS emails to your subscribers.    Whether you have an online store, a blog or a website that constantly…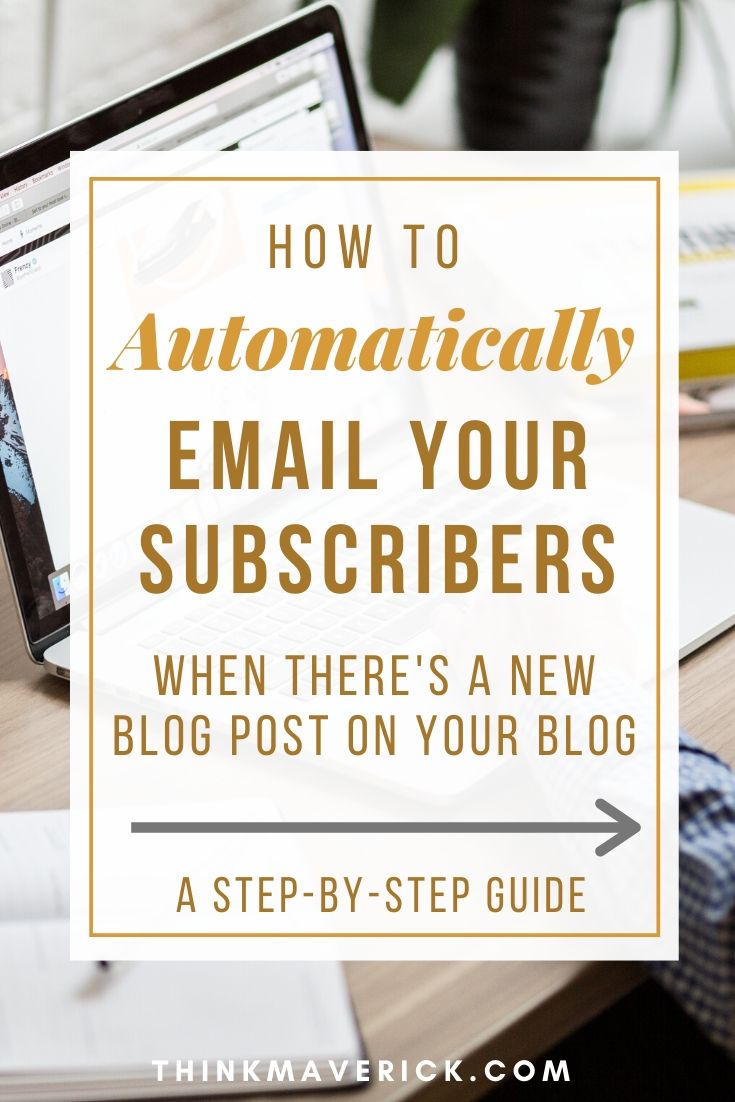 Are you looking for ways to increase your blog traffic?
Repurposing your blog content into an email newsletter is a fantastic way to promote your blog. What's more, you can automate your blog marketing by sending RSS emails to your subscribers. 
Whether you have an online store, a blog or a website that constantly updates its content, Sendinblue's free RSS to email service can help you to drive serious traffic to your site.
SendinBlue's RSS-to-Email feature takes your new content, automatically inserts it into an email, and sends it to your subscribers as soon as a post is published on your blog.
Putting Your Blog Content on Autopilot
Look, you've spent hours writing the perfect blog post.
Now it's time to get out there and promote your new blog posts.
While you can share your blog on Instagram, Facebook, Twitter and other social platforms to get instant worldwide exposure, the most effective way of getting targeted traffic is banking on the people that are already present on your list.
Don't forget direct traffic from your email list.
Simply because…
Email campaigns deliver a higher ROI than every other type of marketing category. Your loyal subscribers will definitely be more interested in reading your content or buying your products than any random visitor from Facebook.
What if there's a method of driving more blog traffic that you could instantly implement to your base strategy?
To put your email marketing on autopilot and now bring it to the next level, the only tool that you need is SendinBlue.
By the end of this piece, you'll know exactly how to send your latest blog post content to your email subscribers using an RSS feed, without much effort on your part.
Read on, I'll show you how to use Sendinblue to set up your own RSS campaigns for absolutely free.
What is an RSS Feed?
Even if you don't know the first thing about RSS (including what is stands for: Really Simple Syndication), your blog or business could probably benefit from it.
Every WordPress site has an RSS feed. An RSS feed automatically collects content from your website, updates when you publish new posts and display it on other places like email.
This means that you can setup RSS emails so that automated email will be sent to your subscribers every time new content is published on your website or blog.
Why Automate Your Blog Post Content with RSS Campaigns?
Email marketing is a great way to reach your customers in a place where most people visit every day- their inbox.
With the help of an RSS feed email campaign, your visitors don't have to manually check your website for fresh content. Instead, they'll get your latest blog posts and website updates delivered directly to their inboxes whenever a new post goes live.
Not only you can increase traffic to your new content, sending regular articles to your list can also help to nurture your leads and turn them into customers.
And most importantly, RSS campaigns are fully automated. Just set up, sit back and SendinBlue will send relevant, timely content to your subscribers at your desired time and day. It'll save you tons of time while keeping your contacts engaged and informed.
So you want your emails to get written and sent automatically?
Let's get started.
First, create a Free SendinBlue account.
SendinBlue is an all-in-one platform that helps you grow your business through building stronger customer relationships, including Email, SMS, Facebook, Chat, CRM, and more.
But today, I'd like to draw your attention to its RSS-to-Email functionality.
How To Email Your Subscribers New Blog Posts Automatically
The process of creating new automatic RSS to Email Campaigns is pretty easy and straightforward.
After an initial setup, the system is fully automated – giving you more time to focus on your business.
Setting up a SendinBlue RSS campaign
Step 1: Connect Sendinblue's email marketing platform to your blog RSS feed.
If you're new, sign up for a free Sendinblue account here.
Login to your SendinBlue account, go to Integrations tab and choose RSS campaign.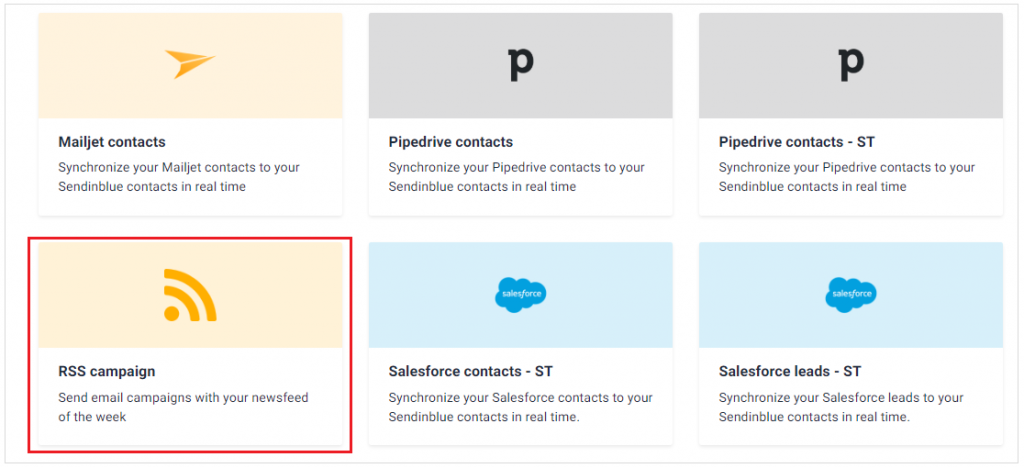 Step 2: Name your Integration
Next, give your Integration a name for easy reference and click "Create Integration" button.

Step 3: Enter the RSS feed URL.
Type in your RSS URL, which is usually yourwebsite.com/feed.
Then, click on "Load RSS feed" button > "Continue".
A simple preview of your RSS feed will load if the URL entered is valid.

Step 4: Create Your Email
Now that your RSS feed is setup, let's design your RSS emails.
Don't worry about having to create one. SendinBlue provides pre-made RSS feed email templates for you. Although you can design your own email from scratch, it is much more time-consuming than using an existing template.
You have two options:
RSS Default Template (Recommended): Pre-designed templates that are ready to use. You can edit and customize the templates to create your own unique, personalised email.
My email Templates: This is for advanced users who are looking to create their own RSS email from scratch.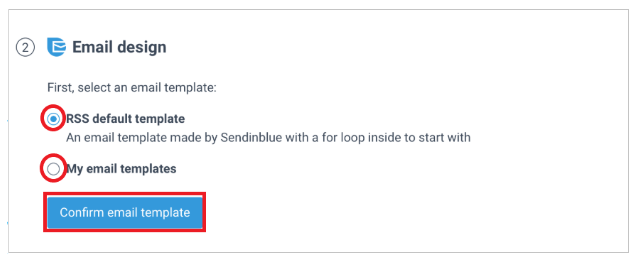 There's a lot of customization you can do with your email. You can add your company's logo, links to content, buttons and other important elements, so that SendinBlue will automatically pull the relevant information from your latest post into your RSS campaigns.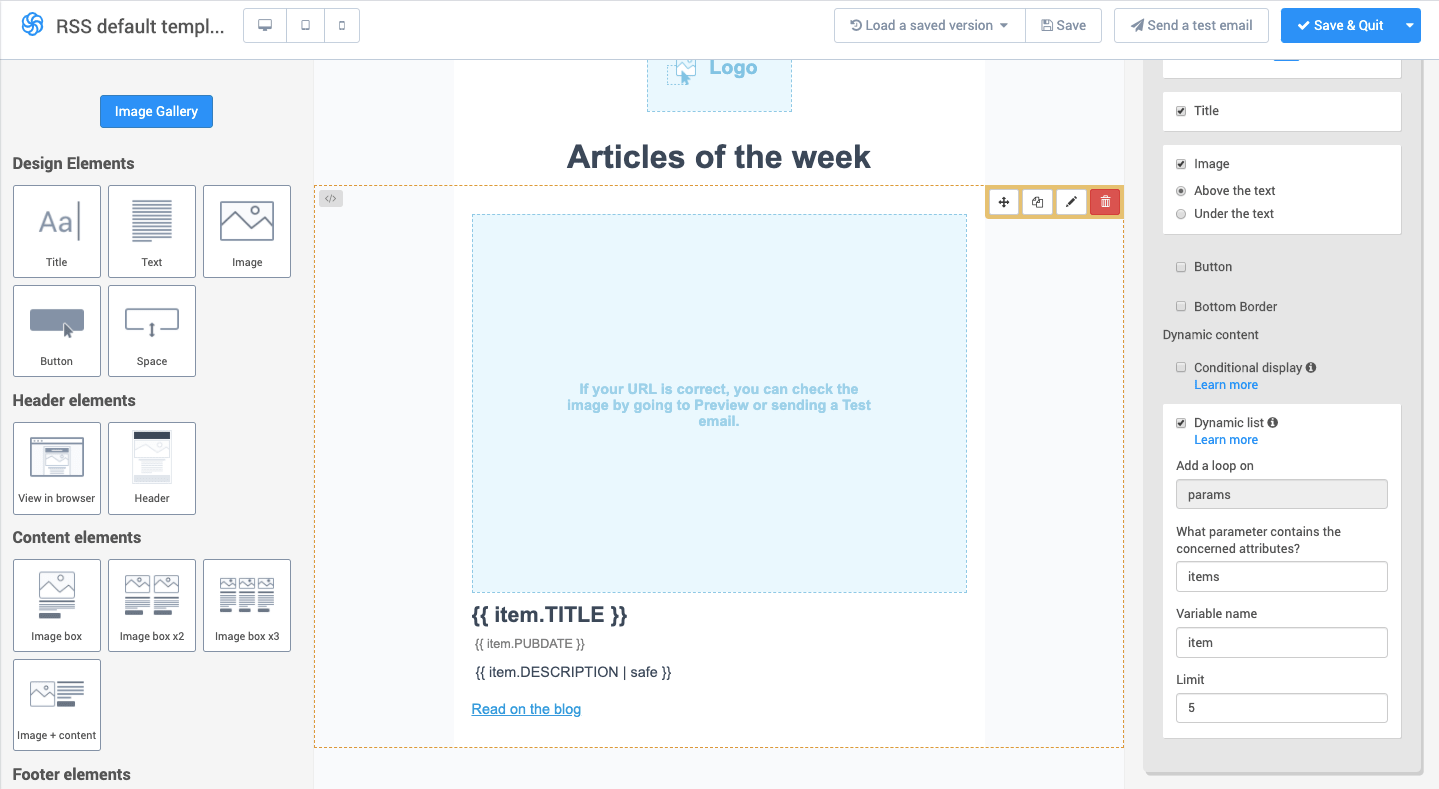 Step 5: Select Your Recipients
Choose the list, segment, or a group of recipients to receive your RSS campaigns and click "Continue".
Important: Always test your email campaign to make sure that it's working properly before sending it out to your readers.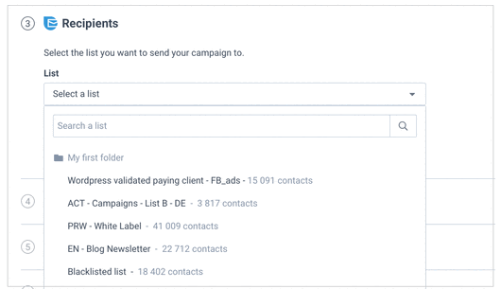 Step 6: Choose when to send the email, daily, weekly, or monthly.
You can send automatic new notifications to your subscribers on a scheduled email that you can control.
Here, you can choose how frequent you'd like SendinBlue to check your new posts in your feed: daily, weekly, monthly or each time a new post is published.
You can also select the time for the RSS campaigns.
Step 7: Enable Sendinblue's RSS integration
That's it. Once you're satisfied with your RSS campaigns, click "Save and Activate" button to activate the integration.
Also, you can save it as draft by clicking "Save and keep inactivate" so you can come back later to edit and activate it.
Once your RSS-to-Email is activated, you can view, monitor and check the performance of your campaign under your SendinBlue's email section.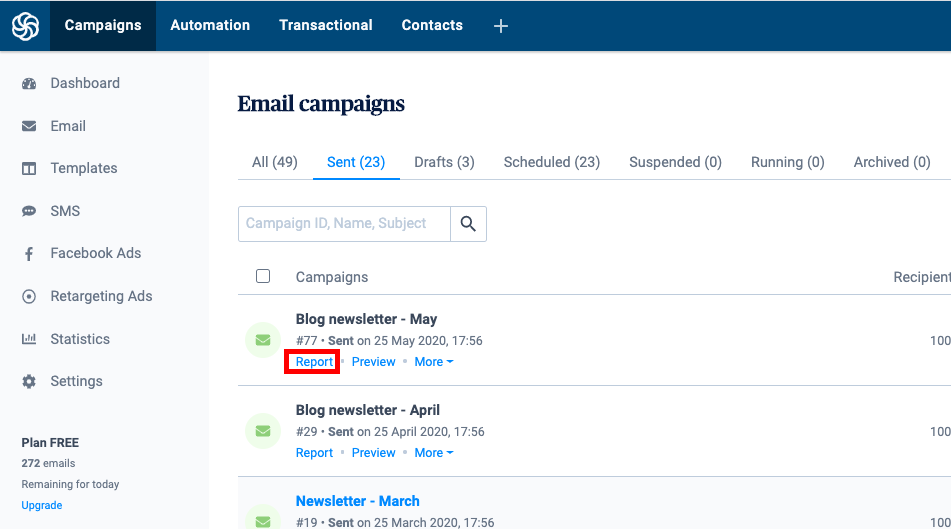 But wait, how do I get subscribers in the first place?
Now you know how to set up your RSS feed and send automatic new post notifications to inform your subscribers about your latest blog post.
But if you don't have an email list, you need to start building your list first.
Luckily, you can use SendinBlue to build your email list. 
Once you get a sizable enough subscriber base, you can set up your RSS-drive campaigns to keep your audience updated with your latest blog post.
If you're just starting out and have a tight budget, then you should take advantage of SendinBlue free plan. The free, forever plan allows you to send up to 300 emails per day and manage unlimted contacts. As your business grow, you have the option to upgrade to their premium plan to unlock advanced features, starting at just $25 per month.
Conclusion
Setting up your own RSS feed is easier than you think.
Set aside 10-15 minutes to create new automatic RSS to Email Campaigns and SendinBlue will automatically fetch your latest post and send it to your subscribers.
This way, you can easily drive quality traffic to your blog post every time you publish, without having to life a finger.
Happy emailing!
Do you use RSS feeds to promote your blog? Why or why not?
If you have any questions, tell me in the comments.
Read Next:
Last but not least, if this post was of any help to you, please share it on Facebook, Twitter and Pinterest!
A quick share from you would seriously help the growth of this blog.
Thank you so much!
I live and breath making an income online. 
I'll be sharing more of ideas and guides soon. Stay tuned.
If you haven't already, sign up here to receive my emails