Disenchantment has returned for a third season and its amazing ensemble of veteran voice actors has returned with it. The new season also boasts some impressive guest stars, who only appear for an episode or two, but have a major impact upon the story and setting. Set in a fantasy realm that may also be…
Disenchantment has returned for a third season and its amazing ensemble of veteran voice actors has returned with it. The new season also boasts some impressive guest stars, who only appear for an episode or two, but have a major impact upon the story and setting.
Set in a fantasy realm that may also be the same reality as Futurama, Disenchantment centers around Princess Tabeanie, or Bean for short. A hard-drinking rebel who has little use for her father's ideas about marrying her off to secure an alliance with a neighboring nation, Bean feels that there's some great destiny awaiting her somewhere outside the gates of Dreamland. She's right, but she's also not too crazy about fulfilling that destiny, which involves paying a debt her mother's family owes Hell and having a crown screwed into her head.
Continue scrolling to keep reading
Click the button below to start this article in quick view.
Related: Netflix: The Best New TV Shows & Movies This Weekend (January 15)
Season 3 picks up right where season 2 ended, with Bean having escaped being burned at the stake as a witch by a mob of Dreamlanders only to find herself surrounded by an entirely different mob of Trogs: a race of stunted, sub-terrain cave dwellers, who are in league with Bean's treacherous mother, Queen Dagmar. Here's a rundown of all the returning cast of Disenchantment and the roles that they play, as well as all the guest stars with major roles in season 3.
Abbi Jacobson as Princess Bean
The lead heroine of Disenchantment, Bean is not your typical tomboy princess who wants adventure in the great wide somewhere. She'd be much happier if she just had the freedom to get wasted and pick up whatever cute guys she could find at the tavern, but fate (and the rest of the world, it seems) have other plans for her. She is voiced by Abbi Jacobson, who is best known as the creator and star of Broad City. She can also be heard in Bojack Horseman as the voice of Todd's ex-girlfriend, Emily.
Eric André as Luci & More
Luci is Bean's own personal demon, bonded to her for all eternity to push her to the path of wickedness. This proved to be a much easier job than Luci's masters in Hell had anticipated, and he soon began to slack off on his demonic duties to run a bar and contribute to the general wickedness of Dreamland as a whole. Luci is voiced by Eric André, who is perhaps most famous as the creator and host of The Eric André Show. He also voiced the hyena Azizi in The Lion King remake.
Nat Faxon as Elfo
Too cynical for the world of elves and too naïve for the world of man, Elfo is a half-elf who isn't entirely sure where he belongs. He has found a place at Bean's side, but his crush on her is unrequited and the only other love he seems to find is in all the wrong places (very wrong, incredibly sick and filthy wrong places). Elfo is voiced by writer/actor Nat Faxon, who is probably best known for his collaborations with Jim Rash, such as The Descendants and The Way, Way Back. He also played a lead in the FX show Married and the Netflix comedy series Friends From College. More recently, he's provided the voice for Captain Underpants in The Epic Tales of Captain Underpants in Space and will be playing Han Solo in the upcoming Star Wars: Detours series.
Related: Netflix: Every Movie and TV Show Releasing In January 2021
John DiMaggio as King Zøg & More
Absolute ruler of Dreamland and Bean's beloved (if begrudging) father, King Zøg starts season 3 in ill health and on the verge of losing his life along with his crown. Naturally Zøg being Zøg, he's more concerned about the hat than his health. He is voiced by animation legend John DiMaggio, who is well known to Futurama fans as the voice of Bender. He also provided the voice for Jake the Dog in Adventure Time, Dr. Drakken on Kim Possible, and even Marcus Fenix in the Gears of War video game series. Recently, he voiced Heidegger in the English dub of the Final Fantasy VII remake. He also voiced both King Shark and the demon Trigon in Justice League Dark: Apokolips War.
Tress MacNeille as the Pirate Queen Oona & More
The second wife of Zøg, who abandoned him and Dreamland to seek a new life as Queen of the Pirates, Oona returns to Dreamland in Disenchantment season 3. She is voiced by Tress MacNeille, who has voiced multiple characters on both The Simpsons and Futurama, including Agnes Skinner and Mom (of Mom's Friendly Robot Corp.). MacNeille also provides the voices for Prince Derek and the Archdruidess who leads Dreamland's state religion. She is also beloved as the voice of Dot Warner from Animaniacs.
Matt Berry as Prince Merkimer
Heir to the throne of the neighboring kingdom of Bentwood, Prince Merkimer was intended to be Bean's second fiancée after the untimely impalement of his older brother. While the wedding was called off after he was turned into a talking pig, Merkimer continued to hang around the palace of Dreamland being sad and/or drunk. He is voiced by British comedian Matt Berry, who is famous for his appearances on The IT Crowd, Toast of London, and What We Do In The Shadows. He can currently be heard in The Watch, lending his voice to a magic sword named Wayne.
Noel Fielding as Stan the Executioner
A torturer and executioner by trade, Stan is still a jovial man who does his job with a kind word and a craftsman's eye. He is voiced by British comedy legend Noel Fielding, who is well-known as one half of The Mighty Boosh and for playing Richmond in The IT Crowd. Viewers may recognize him as a co-presenter for The Great British Bake-Off. He also lent his voice to Balthazar in The LEGO Movie 2.
Related: Disenchantment Season 2 Has Some Weird Game Of Thrones References
David Herman as The Herald & More
Still best known for playing the role of Michael Bolton in Office Space, David Herman went on to become one of the most prolific voice actors in Hollywood. He voices several characters in Disenchantment, the most notable being the Herald of Dreamland. He also provides the voices for Bean's uncle Jerry and the snarky spa attendant Chazz. He can also be heard as Mr. Frond in Bob's Burgers and Dmitry in Central Park.
Sharon Horgan as Queen Dagmar
Bean's mother and King Zøg's first wife, Dagmar is a wicked witch who has big plans for Bean involving some sort of prophecy. Season 3 will find her once again manipulating her daughter for her own sinister designs. Dagmar is voiced by Sharon Horgan, a comedian and voice actor who has appeared in several British sitcoms including Catastrophe and This Way Up. She provides the voices for Courtney Portnoy in Bojack Horseman and Kathleen in Bob's Burgers and also appeared in the movie Game Night
Maurice LaMarche as Odval & More
One of the most prolific voice actors in the business, Maurice LaMarche is perhaps most famous for his impression of Orson Welles, whom he played on both The Simpsons and Futurama. His voice was also dubbed over Vincent D'Onofrio's performance as Orson Wells in Tim Burton's biographical film Ed Wood. LaMarche's chief role on Disenchantment is the treacherous, three-eyed minister Odval, but he voices a number of supporting roles as well, such as the legendary demon hunter Big Jo.
Lucy Montgomery as Bunty
Bunty is Bean's simple-minded, ever-pregnant maid. She is voiced by Lucy Montgomery, who will be familiar to many fans of British comedy. She appeared in the 2011 revival of Absolutely Fabulous, The Armstrong and Miller Show, Bellamy's People of the United Kingdom of Great Britain and Northern Ireland and Tracy Breaks the Internet. She can also be heard on a number of children's programs, having lent her voice to both Thomas the Tank-Engine and Bob the Builder.
Related: All The Simpsons & Futurama Easter Eggs In Disenchantment Season 2 
Billy West as Sorcerio & More
The chief wizard of Dreamland ever since he was allowed to put stars on his dunce cap, Sorcerio is perhaps the most incompetent member of Dreamland's ruling council — a low bar to jump over. He is voiced by legendary voice actor Billy West, who is instantly recognizable to fans of Futurama as the voice of Fry, Zoidberg, Zapp Brannigan and Professor Farnsworth. West has provided several iconic voices over his long career, including the title characters from The Ren & Stimpy Show and Doug. West pulls quadruple-duty on Disenchantment as well, also providing the voices for the Jester, Sir Mertz, and the Elf King Rulo.
Meredith Hagner as Mora the Mermaid
Season 3 of Disenchantment briefly finds Elfo confined to a freak show, where he befriends a sarcastic mermaid named Mora who has dreams of being an actress. Mora is voiced by Meredith Hagner, who might be recognized as Portia Davenport from Search Party. She also voiced Madison on Bob's Burgers.
Disenchantment Season 3 Guest Stars
Rich Fulcher as Sir Turbish – Best known for his work with Noel Fielding and Matt Berry on various projects, Rich Fulcher returns to voice the awkward but well meaning Sir Turbish.
Lauren Tom as Trixy – Well known to Futurama fans as the voice of Amy Wong, Lauren Tom lends her voice to Trixy: a female Torg who develops a truly disturbing attraction to Elfo.
Richard Ayoade as Alva – Best known as Maurice Moss from The IT Crowd, Richard Ayodae plays Alva, the mysterious man who essentially rules Steamland.
Phil LaMarr as God – Best known to Futurama fans as the voice of Hermes Conrad, Phil LaMarr returns as the voice of God, the chief deity of Disenchantment's cosmology.
More: Disenchantment: The Biggest Unanswered Questions After Season 2's Ending
WandaVision: The Fake Commercials Are From Wanda's Worst Memories
About The Author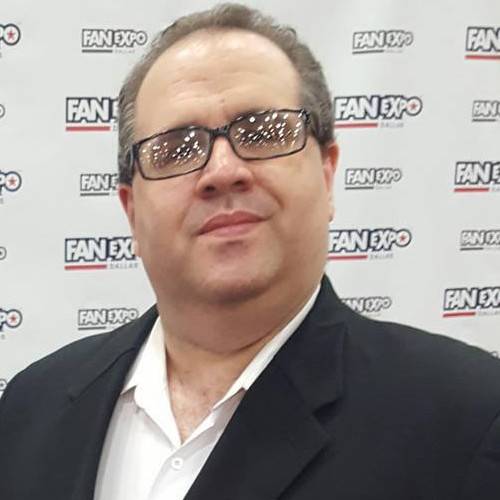 Matt Morrison
(1396 Articles Published)

Matt Morrison has been writing about comics since before the word
"blogging" was coined. He got his start writing for the
legendary DC Comics digital fanzine Fanzing,
before receiving his own column, The Mount. Since then he has gone on
to write for over a dozen websites, including 411
Mania, Comics
Nexus and The Cult of Nobody. He holds both an MS in Information
Science from the University of North Texas and a BFA from the
University of Texas at Arlington. Known as a font of comic book
history trivia, he has delivered lectures on the history of American
Comic Books, Japanese Manga and Cosplay at over a dozen conventions
and served as an Expert In-Residence for a course on Graphic Novels
for Librarians at the University of North Texas. In addition to his
work for Screen Rant, Matt is currently the Managing Editor of
Kabooooom.com, the house
critic of Explore The Multiverse and writes reviews for No
Flying, No Tights – a graphic literature and anime review site
aimed at teachers and librarians. He also maintains a personal blog –
My Geeky Geeky Ways –
which hosts his extensive episode guide for the television series
making up The Arrowverse as well as his
comedic Let's Play videos. What little spare time he has is
devoted towards acting, role-playing, movie-riffing and sarcasm. You
can follow his adventures on Twitter, @GeekyGeekyWays.
More From Matt Morrison